Canada paints 'terrorism' to escape responsibility
Canadian government which tilted the balance by branding the defensive national struggle of Eezham Tamils as 'international terrorism' and was thus one of the abetters of Colombo in the war, is in its attempt to escape responsibility now breaches all bounds by painting a picture of 'terrorism' even for the arrival of refugees, Tamil circles said. "Canada government foments reaction over Tamil refugee boat," fans anti-immigrant prejudice, and boosts "Sri Lanka's authoritarian, communalist government – a government that is implicated in horrific war crimes," wrote Keith Jones in The World Socialist Website, Tuesday. Citing Public Safety Minister Vic Toews, he noted that Canada government may also use the country's anti-terrorism laws to prosecute any Canadians of Tamil origin who helped fund the passage of their relatives to Canada on the MV Sun Sea, by linking the refugees to the LTTE.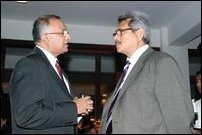 Eezham Tamil community organisations in Canada have come together and formed Tamil Refugee Coordinating Committee (TRCC), a coalition of Tamil community organizations and groups from broader Canadian society, to assist the 490 Tamil refugees who reached Canada Friday, escaping persecution by the hands of the Sri Lankan government. Meanwhile, the Sri Lankan government, which seeks to subjugate the Diaspora Tamils finds it comfortable to exploit the anti-refugee and anti-immigrant sentiments prevailing in the Establishments of the West in continuing to brand Tamils as "terrorists".
The refugees have spent a grueling three months at sea on board a cargo ship called the MV Sun Sea to seek refuge in Canada. The ship docked Friday off the shores of Vancouver Island in British Columbia, Canada. One of the boat rufugees, a male, died due to illness on his way to Canada.
The main focus of Sri Lanka's Defence Secretary Gotabhaya Rajapaksa's inaugural speech at a maritime conference named "Galle Dialogue 2010" organised by the Sri Lankan Defence Ministry on 06 August 2010 was MV Sun Sea, which was then on its way to Canada.
"This voyage is part of the LTTE activists human smuggling operation that began after the military defeat of the LTTE in Sri Lanka," Mr. Gotabhaya told defence delegates of 8 countries including USA, India, Australia and Pakistan. He thanked the Near East South Asia (NESA) Centre of the United States for its assistance to the conference.
Before Gotabhaya came with his remarks, Professor James Clad of NESA had been quoted by Washington Post on August 04 as saying that the boat was part of an attempt by the Tamil Tigers to "create a network again and play the transnational terrorist game."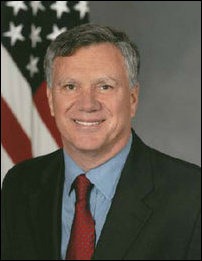 Professor James Clad was earlier US Deputy Assistant Secretary of Defense for South and Southeast Asia.
"I'm not an advocate for sending people back to their deaths, but that is just not happening in Sri Lanka," James Clad told Washington Post. "I've helped a lot of migrants before, but I know a scam when I see one," the professor was quoted as saying by the Washington Post.
Echoing Gotabhaya Rajapaksa and the former Pentagon Professor, the Canadian Public Safety Minister was repeatedly saying that the MV Sun Sea's voyage to Canada was likely organized by the Liberation Tigers of Tamil Eelam (LTTE) with the aim of infiltrating terrorists into Canada and raising funds. Those on board are said to have paid $40,000 or $50,000 for their passage.
Meanwhile, Todd Ross from the Canadian Human Rights Voice (CHRV), an organization assisting with the Tamil Refugees told Canadian media this week: "These refugees are fleeing persecution from their own government. In considering this, the Canadian government should not forget that tens of thousands of Tamils have already been granted asylum in Canada as they were found to be victims of the persecution at the hands of the Sri Lankan government."
Tamil circles in Colombo allege that Basi Rajapaksa's men in a coordinated way threaten Tamil families living in the capital to leave the country as it doesn't belongs to them.
"It is unsurprising that we see such a large number of refugees escaping the island of Sri Lanka despite the end of the war. In addition to citing war crimes and crimes against humanity, prominent human rights organizations accuse the Sri Lankan government of a disdain for human rights, a disregard for civil liberties, and a clampdown on domestic dissent," states Krisna Saravanamuttu, spokesperson of the democratically elected country council of Eezham Tamils in Canada, the National Council of Canadian Tamils' (NCCT).
The TRCC is providing humanitarian assistance by working closely with the Canadian Red Cross to provide emergency care packages and the Tamil-Canadian business community that has generously donated clothing and essential supplies.
A legal defense team is assembled to oversee legal representation for the refugees in Vancouver, Mr. Krisna Saravanamuttu told TamilNet Monday.
The legal team is also helping to connect them with family members living in Toronto, home to the largest Tamil Diaspora.
The coalition, which also includes representatives of the law office of Mr. Lorne Waldman as well as a representative from Amnesty International, is working with social service organizations like Women's shelters and Children's counseling centers as well as with the British Colombia Legal Aid to provide relevant aid and assistance to the refugees.
The main task of the committee is providing overall strategic direction to ensure legal representation and humanitarian assistance for the Tamil refugees, according to Krisna Saravaranamuttu.
A number of Canada wide groups like the Canadian Peace Alliance, the Ontario Federation of Labour, the Canadian Association of Sexual Assault Centers, and the Canadian Arab Federation are adding their voices to the TRCC to ensure that the refugees are treated with compassion and afforded their due process in accordance with Canadian law.
As a signatory to the 1951 United Nations Convention on Refugees, Canada must process all refugee claimants who manage to reach Canadian soil.
Under Canadian and international law Canada is legally obliged to offer sanctuary to those fleeing political persecution and to give those applying for asylum an opportunity to establish the validity of their claim.
But, Canada's Public Safety Minister Vic Toews declared once again Monday that the country's laws will have to be beefed up to prevent boatloads of desperate people fleeing persecution and poverty from seeking refuge in Canada.
The Canadian press no doubt encouraged by the Conservatives behind the scenes, has proposed a series of other reactionary measures, many of them modelled on those taken by Australia. These include using the navy to intercept ships on the high seas, so as to prevent refugees from entering into Canada's territorial waters, and establishing detention camps for refugee claimants in inhospitable areas far from any urban center or even outside Canada, was the observation of Keith Jones in The World Socialist Website.
Meanwhile, former Ontario Prime Minister and Liberal politician Bob Rae on Monday said "Sri Lanka's civil war did not come to a pretty ending"
"Canada has an obligation under our law to take refugee claims seriously, to weigh them in a judicious manner, and to insist that allegations of "terrorism" and "human trafficking" be proven. We also need to work with our international friends and the UN to understand better why these boats are travelling, how they are being organised, and why people feel they should take them".
Canada which opened up its country to 400,000 Europeans in the beginning of 20 the century was discriminatory to 354 refugees, mainly Sikhs, arriving from Calcutta in a ship in 1914.
"The Imperial authorities concluded that the leaders on the boat were dangerous agitators for Indian freedom, and 19 of them were killed on arrival in Calcutta. Many others were arrested and imprisoned. The incident remains a dark stain on Canada's reputation, for which Stephen Harper has yet to apologise in the House of Commons," Bob Rae pointed out.
He also cited that 936 refugee Jews arriving in ship were refused entry by Canada in 1939, they were turned back to Europe and 254 of them were killed in Nazi death camps.
"[...] If the Sri Lankan government says I'm a threat to their national security I'm less inclined to take seriously their blanket conclusions about who's on the boat and why they're there. I have confidence in our immigration and justice system. Vic Toews is right about one thing: the world is watching," Bob Rae said.
(For updates you can share with your friends, follow TNN on Facebook, Twitter and Google+)