Sri Lanka denies war crimes in domestic probe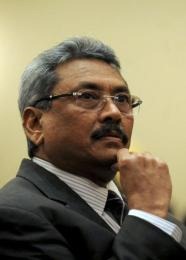 Sri Lanka's powerful defence chief Tuesday staunchly defended the government's human rights record, saying troops suffered heavy losses to avoid civilian casualties during last year's assault on Tamil Tiger rebels.
Defence Secretary Gotabhaya Rajapakse said foreign diplomats and aid agencies had lauded his measures to protect civilians during the major military campaign against the Tigers, who were crushed in May last year.
Rajapakse told a government-appointed Lessons Learnt and Reconciliation Commission 6,000 troops were killed and 30,000 wounded during the "humanitarian mission" to free ethnic Tamil civilians from the grip of the rebels.
"We took great care to avoid civilians. It was a difficult period for us. Our military had to stop operations and give protection to people, food convoys," Rajapakse said in Colombo.
He gave no estimates for rebel or civilian casualties.
"It was difficult for us to identify who (civilians) were … nobody knows how many (casualties) and nobody talks about it," he said.
However, the United Nations has estimated at least 7,000 civilians were killed in the first four months of fighting last year, while international rights groups say the figure could be as high as 30,000.
Asked if Western governments or aid agencies raised questions of rights abuses by the army, Rajapakse said: "No complaints about human rights violations or abuses by the army was brought to my notice. None at all."
He read out a letter from International Committee of the Red Cross commending the military for ferrying food supplies for civilians.
He made no reference to relief agency reports of a "humanitarian catastrophe" during the final months of the war and allegations of war crimes, including the killing of surrendering rebels and shelling civilians.
The eight-member panel is not empowered to probe war crimes, but is expected to focus on why a 2002 truce between the government and separatist Tamil Tiger rebels collapsed and led to more fighting.
(For updates you can share with your friends, follow TNN on Facebook, Twitter and Google+)