British youth's war crimes awareness walk to conclude Friday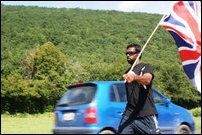 The British Tamil youth who set out to highlight the need for an international investigation into Sri Lanka's war crimes through an awareness-raising walk from London to the United Nations in Geneva is near the end of his journey, fellow activists said. Well wishers from several European countries are traveling to Switzerland to welcome him there. Gobi Sivanthan has almost reached Geneva, activists said Thursday night. Whilst French media outlets have reported regularly on his progress through France, local and national police have provided support along the way to facilitate Sivanthan and his supporters. Meanwhile, a group of British Parliamentarians hailed the youth's efforts, describing it as "a noble mission for a noble cause."
Sivanthan's walk began in the heart of London on 23rd July, following a midnight vigil attended by thousands of Tamils and non-Tamils to mark the 1983 anti-Tamil pogrom. He walked to Paris before proceeding via the city of Troyes in the Champagne region towards Dijon, and thereafter crossing the border into Switzerland.
Sivanthan is expected to reach the United Nations at about midday on Friday, and several thousand people are traveling there to welcome the activist. Well wishers are traveling in coaches and private transport from Britain, France Germany, Denmark and Italy, as well as other Swiss cities.
Within Switzerland, a group of activists are staging another walk to link up with Sivanthan on Friday.
Throughout his walk, Sivanthan has been accompanied through individual stages by local well-wishers. In recent days, he has been joined by groups of 60-80, carrying flags of the UN, France and UK, reports said.
Fellow walkers and other activists have been handing out leaflets in French to members of the general public to highlight the need for an independent international investigation into Sri Lanka's massacres of Tamil civilians in the closing stages of the armed conflict there.
Sivanthan's walk has been regularly reported on by French media, including Reuters, iTele, Le Courrier Picard, Le Parisien, Aujourd'hui en France and France Ouest.
The walk, which was initially to be completed by August 6th, has been drawn out as Sivanthan has made stopovers in towns with larger Tamil communities where he has met with the local Mayors, councillors and well-wishers to raise awareness of Sri Lanka's warcrimes.
On August 2, at a public rally in the town of Sevran, Mayor Stephen Glatignon and Deputy Mayor Stephen Dlanger joined Sivanthan together with crowds of local Tamils to mark the killing of 40,000 Tamil civilians during Sri Lanka's final offensive in May 2009.
Mayor Glatignon addressed the gathering and pledged to work with the community to seek justice for the victims of war crimes and crimes against humanity in Sri Lanka.
In the town of La Courneuve where nearly 3000 Tamils live, Councillor Anthony Russel and the town's Deputy Mayor addressed the assembled crowd. Noting that much more needs to be done for the hundreds of thousands of displaced Tamils in Sri Lanka, they urged the Diaspora to continue to speak up for their fellow Tamils there.
Sivanthan also met with the Mayor and Councillors at La Chapelle, another town with a significant Tamil community.
"Let Gobi Sivanathan's long walk from No 10 Downing Street to UN Secretariat be a new dawn in Tamils quest for justice," said Lee Scott, MP the newly elected Chair of the All Party Parliamentary Group for Tamils (APPGT), in a press statement.
Hailing Sivanathan's efforts, Mr. Scott, an MP of the ruling Conservative Party, said: "I salute the courage and commitment of Gobi Sivanathan – it is a noble mission for a noble cause."
"If this is what it takes for the Government of Sri Lanka to play by the international norms and rules I am all for it," added Mr. Scott, who has long argued for Sri Lanka to be expelled from the Commonwealth until it respects international norms.
The APPGT Chair says he is planning to invite international Non Governmental Organisations to give evidence so that UK parliamentarians from all parties can hear first hand account of what happened during the last days of Sri Lanka's war.
(For updates you can share with your friends, follow TNN on Facebook, Twitter and Google+)