Karunanidhi seeks explanation from former LTTE leader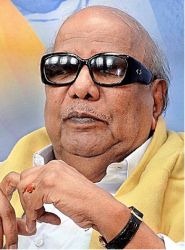 Referring to the remarks of former LTTE leader Kumaran Pathmanathan on the role some politicians from Tamil Nadu in the efforts to arrive at a ceasefire in Sri Lanka's war against the LTTE, Chief Minister M. Karunanidhi said Mr. Pathmanathan has to explain the facts relating to the war.
Mr.Karunanidhi pointed out that KP had contended that MDMK leader Vaiko had stood in the way of a ceasefire.
Quoting KP, he also said that Mr.Vaiko influenced a change in the decision of the LTTE leadership to enter into a ceasefire because if a peace process began, then the DMK and Congress would get credit for such a development.
Also, CPI (M) MLA K. Mahendran had contested the part in which KP had stated that it was Mr.Mahendran who conveyed to Mr.Vaiko that the LTTE wanted to enter into a dialogue with the Sri Lankan government. It was up to KP to clarify this, he said.
Answer to Vijaykant
Responding to DMDK leader Vijaykant's allegation that both the DMK and the AIADMK were corrupt parties, Mr.Karunanidhi questioned Mr.Vijaykant's locus standi to speak about corruption.
People will laugh at his contention, Mr.Karunanidhi said and advised him that before finding fault with the appearance of others, it would be better if he had a long and hard look at the mirror.
Mr.Karunanidhi said that the proceeds from two of his movies ('Mannin Maindhan' and 'Kannamma') were given towards tsunami relief operations. His son, M.K.Stalin, had handed over the cheque for Rs. 21 lakh to the then Chief Minister Jayalalithaa. Similarly, income from 'Uliyin Osai' minus income tax was given to senior artists. Also, the Kalaignar Karunanidhi Trust had disbursed to the poor Rs.72.65 lakh from November 2005 to August 2010.
To encourage young writers and to ensure quality work in Tamil, he had given Rs.1 crore to Book Sellers and Publishers Association of South India.
(For updates you can share with your friends, follow TNN on Facebook, Twitter and Google+)