Sri Lanka's presumptive war-criminal to take UN job in New York
Sri Lanka's Deputy Permanent Representative (DPR) to the United Nation's post in New York, vacant following the recall of previous DPR, Bandula Jayasekera, after an alleged sexual harassment scandal, is reported to be filled by Major General Shavendra Silva, former 58th Division commander, who has been accused of committing war crimes by his former General Sarath Fonseka, Inner City Press reported. Professor Francis Boyle, an expert in International Law, commenting on this reported UN job said, "the Government of Sri Lanka (GOSL) is trying to sanitize and immunize their genocidaires/war criminals and thus regularize it all."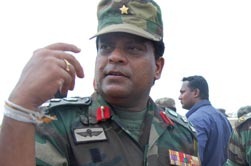 The reported appointment follows two similar appointment of alleged war-criminals, Major General Jagath Dias as a diplomat to Germany, and Chief of Staff of Sri Lanka's forces during the war, Donald Perera as Sri Lanka's Ambassador to Israel.
Currently a member of Sri Lanka parliament, Maj. Gen. (Retd.) Sarath Fonseka in an earlier media interview had said, Gen. Silva "had received orders to shoot at sight LTTE suspects who came with white flags to surrender to the army during the final stage of war."
Report: Satellite images confirm PTK attacks (5Mb)
Shavendra Silva's 58th division was one of the Sri Lanka Army (SLA) divisions that had been the longest embedded division in prosecuting the final war. Starting in September 2007 in Silavaturai in the western coast, Silva's division was instrumental in displacing civilians from the western shores to the eastern killing fields in Mullaitivu in Jan 2009, according timeline published in Sri Lanka Government controlled Daily News.
The slaughter of civilians took place during the first five months of 2009.
Barak Appoints War Criminal Yaron
Professor Boyle said Israel adopted similar tactics in appointing Brigadier General Amos Yaron, who had alleged complicity in the Sabra and Shatila camp massacre in September 1982, to Military Attache post in U.S. and Canada. While Canada refused Yaron's appointment, U.S. due to intense lobbying by Arab-Americans, held up the appointment for three months before accepting Yaron's credentials.
A spokesperson for Tamils Against Genocide (TAG), a US-based activist group said, "While issues related to Diplomatic Immunity may keep the war-criminals, once appointed, from being prosecuted, civil action would still serve to highlight the duplicity of International Organizations in accommodating alleged criminals in their staff positions, and will also keep Sri Lanka's war-crimes issue alive. Massacre of 40,000 civilians is an atrocious crime, and no effort on the part of Sri Lanka, except accepting an independent international investigation, would help to absolve the alleged war-criminals holding high positions in Sri Lanka from culpability to the alleged crimes."
(For updates you can share with your friends, follow TNN on Facebook, Twitter and Google+)