The Migrant Mind-Set Of Sri Lankans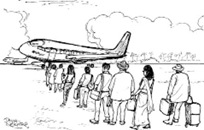 Whether it is the 490 Tamils that fled aboard the MV Sun Sea to Canada, the receptionist at your office that dutifully clicks on every 'Apply for Green Card Today' advert online or the distant relative's relative who attempted to smuggle himself out to Italy by boat, the migrant mind-set in Sri Lanka is the same; going abroad means greener pastures.
The reasons for leaving, wanting to leave, waiting to leave, trying to leave and thinking about leaving are many. Harsha Jayawardene, a banker by profession was clear. "I want to give my children a better education" he said. "The local education system is most definitely not up to standard and the private education system is a massive drain on funds."
"The education system in itself is a mess and lagging far behind international norms" he said, adding bitterly that while he would "like to live in his country" the "flawed system" made it impossible. As such, his wife and he were working on using their energies to migrate to New Zealand, where he had 'relatives' that would sponsor him.
Sameera Munasinghe echoed the same sentiments. "I studied in the local stream here" he said, "but after going to the United Kingdom for my higher studies, I saw what a difference in the system there was. Here you are made to learn from textbooks, there you actually learn in a very different and interactive way, its a whole new way of thinking".
The difference between the two systems of education wasn't the only thing that attracted him, Sameera said. The vast socio-economic differences and a greater level of 'personal freedom' to do "whatever I want to do and be whomever I want to be" added to his intrigue with the UK. He is now seriously considering shifting his attention to "finding ways to leave the country somehow".
Andre Perera is an accountant by day and musician by night. He longs to be able to play music professionally, but knows that there is no opportunity for it in Sri Lanka. "The first thing is that there are no proper music schools", he said. "The other thing is that it is not easy to reach international levels of professionalism here".
"Its easy enough to be popular in this country", he said dispassionately, "but to become a true professional is an entirely different thing. There is no way that I can earn enough to stay alive and play as much as I need to in order to make it big in this country. I plan on leaving. Its a risk to take, but its better than nothing".
Pritiva Tirumagal's story was different. Having lost her father at a young age and her mother later on in life, Pritiva was 'forced' by circumstances to marry fast into an Indian family. "I had to marry" she said quietly. "I had a younger sister to look out for, and as the older sister I had to marry first''.
Why an Indian family? "I didn't want to live in Sri Lanka", she said simply. "At that time (when I got married), the war was not over and things were very different. It wasn't easy for a Tamil, especially two Tamil girls to live in Colombo alone. We also couldn't be a burden on our relatives, and so I agreed to an arranged marriage and left the country".
Natalie de Silva, a divorced mother of three also cited social reasons for wanting to the leave the country. "There is a certain stigma attached to a divorced woman in this country", she said. "The male dominated culture is such that it inevitably becomes the woman's fault for not being able to 'keep' a husband".
"I have relations in Australia and I plan to migrate", she said. "Not only do I plan to migrate but I am also looking forward to the day I get out of this country. I will be able to hold my head up high and work and earn enough to keep my family afloat. My children will be well educated and especially not have to deal with the unhealthy social restrictions that come in the name of 'culture'".
Chandrani, a house cleaner, is also trying to leave. With a nonworking, abusive husband at home and five mouths to feed, Chandrani works day and night — often in two shifts — to cover the family's combined expenses. She has a brother in the U.A.E. who has promised to help bring her across and Chandrani says she is desperate.
She explained that she worked herself to the bone in order to provide for her family. She said that although her husband was 'useless' she could not leave him for what would "a woman without a husband do in this society?" She explained that as long as she was in this country she would need him for her "protection" and for the protection of her three daughters.
She added however, that she would give it all up for a chance to earn more and have her children safe and with her. Chandrani has no idea of how the migration would come about, but says she has faith that 'God would save her from her plight.' At the very least, she said, if she were unable to go, she would send her oldest son, who would "no doubt" get the family across.
Shifani worked in the house of a business family in Kuliyapitiya. Being extremely intelligent, she soon learnt to speak English and basic computer skills. She got married to Mohammed, a bricklayer's assistant, who lived in the same village and the couple had two children. Although Shifani's marriage and family life is going well, she says the lack of jobs has made it hard to survive.
"There is no steady work for my husband", she said. "His income fluctuates. I can no longer work all the time in the businessman's house I grew up in because I have two children of my own who need me. I now wake up early in the morning and make string-hoppers to put in the shops so that there is a little extra income. It's not easy".
In 2007, Shifani and Mohammed put together their meagre savings, borrowed money from relatives and paid an agent enough money to ensure their departure from Sri Lanka. The agent disappeared with the money. The couple now have loans to pay, in addition to the day-to-day battle they face to feed their two children.
Shifani bemoans the lack of opportunity in the country. "If I had the chance to be educated, if my family didn't expect me to be married at a certain age, I would be in a very different place right now". Mohamad was vociferous about the lack of a system that can be trusted. "We have no one to go to", he said. "The government doesn't care and people don't care".
"I don't want to and will never beg", he said bitterly, "but even though I am willing to work, there are no jobs that will pay me what it takes to keep this family fed. I am now considering going away, even alone. I can get my family to wherever I go within a number of years. It will be a sacrifice, but what's to be done?"
Suranga, a beach boy, has already left the country and says he will never come back. He had met a young girl from Greece who was holidaying in Sri Lanka and the two were — predictably — soon involved in a romantic affair. But when the girl left, she took him with her. "She understood",  he said simply.
"We hang around at the beach and make friends with tourists because it is the only way to earn a decent amount of money. We have no skills, no proper education and no proper job opportunities. The jobs offered in this country are stereotypical and mainstream and there is no diversity. In order to earn we are tied down doing something useless for nine hours of the day''.
Suranga doesn't feel bad about leaving the country with a girl, although he knows that "people say things". He explained that in spite of what people said, he was glad to be out of this country and out of the narrow social and economic scales that restricted him. "I only miss my beach", he said, promising that he would be back, on holiday. While there is a steady influx of tourists into this island, equal amounts of her own people are looking for ways to escape. The reasons are economic, social and political. Corruption is rampant, there is no social security system. There are few ways to earn money, to be free, to be a professional.
The war is over, a relative peace has dawned but the migrant mind-set of almost every Sri Lankan remains the same.  All across the board, be they Sinhala, Tamil, Muslim or Burgher, they want to migrate! It is almost as if it is a psyche of Sri Lankans.
(For updates you can share with your friends, follow TNN on Facebook, Twitter and Google+)