Nirupama faces civil society outburst in North
India provided arms and logistical support to Colombo in the Vanni war. It didn't take any effort to stop the war. Even after one year of the war, India didn't act on rehabilitating the incarcerated people, accused members of the confederation of citizens' forums in Jaffna while meeting the visiting Indian Foreign Secretary Nirupama Menon Rao on Tuesday. Resettlement is a hoodwink in Vanni, said retired Senior Professor S.K. Sitrampalam of the University of Jaffna, expressing the strong sentiments of Eezham Tamils. Army has occupied the Tamil lands and people have strong doubts whether India would be of any help in Tamils getting a political solution, the civil society representatives told the visiting Indian diplomat.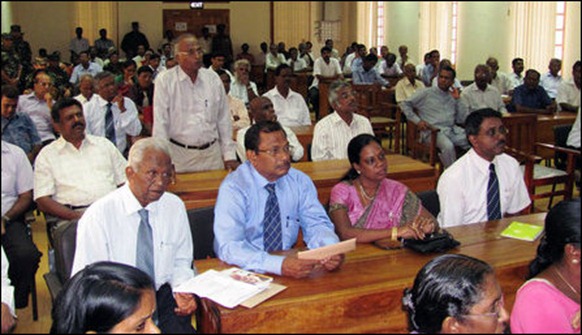 The civil society outburst visibly disturbed Northern Province Governor, Major Gen. (retd.) G. A. Chandrasiri. However, when he wanted to react, Nirupama was seen stopping him.
Resettlement in small pockets in Maangku'lam, Mullaiththeevu and Ki'linochchi doesn't mean much, pointed out the Deccan College trained archaeologist and Ilankai Thamil Arasuk Kadchi (ITAK) stalwart Prof. Sitrampalam.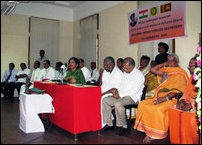 C.V.K Sivagnanam, former president of Jaffna district NGOs Federation and Joint Secretary of ITAK and S. Paramanathan of the Committee for Justice, Peace and Goodwill were also present in the meeting which took place at the public library of Jaffna. Common public was not allowed to attend the meeting.
Ms. Nirupama told the citizens' representatives that she would convey the sentiments to the Indian government.
SLA soldiers harassed the civil society representatives after the meeting, asking for the phone numbers of those who spoke on the occasion.
The Indian Foreign Secretary was received at Duraiappa Stadium and was taken to Jaffna Secretariat where she met the Government Agent Ms. Imelda Sukumar, SL Minister Douglas Devananda and TNA MP Suresh Premachandran.
Before coming to Jaffna, Nirupama visited Vavuniyaa, where she was taken unawares when a TNA MP brought civil representatives of uprooted Tamil civilians from Shanthipuram, Thirumu'rika'ndi areas, whose lands were occupied by the Sri Lankan military.
The demonstrating appearances of civil society members and their strong sentiments irritated and confused the authorities. High Commissioner of India Ashok K. Kantha accompanied the visiting Indian envoy.
(For updates you can share with your friends, follow TNN on Facebook, Twitter and Google+)