IDPs Still In Danger Of Losing Voting Rights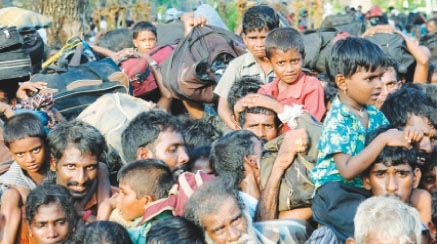 Internally Displaced Persons (IDPs) in the North remain unregistered to vote, despite it being over three months since voter registration began, claims Director of Campaign for Free and Fair Elections (CaFFE), Keerthi Tennakoon.
These IDPs may still reside in camps, but "it is their basic right" to be registered as voters, he says. The IDPs have not received voter registration forms, he says, due to a serious lack of facilities and manpower in the Grama Niladari (GN) divisions in the North.
"After three months not a single IDP has been registered," states Tennakoon. On July 11 this year, The Sunday Leader ran an article on the possibility of thousands in the Mullaitivu and Kilinochchi districts losing their voting rights due to the same reasons. According to Tennekoon, there has been little progress since then.
Apart from the IDPs, he says that even some of those recently resettled remain unregistered. "In Kilinochchi and Mullaitivu, some newly resettled people are registered, but some are not," he says, adding that even in these areas, there was a shortage of officials and vacancies in GN divisions have not been filled.
"There are more than 450 GN divisions in the Jaffna District alone but only 30 GN divisions have completed voter registration," informs Tennakoon. "For example, in the Jaffna District, in Manipay, Kopay, Chavakachcheri and Kankesanthurai, not a single GN division has completed the base survey in the voter registration," he says.
"Throughout the country, voter registration has come to the final stages, but not in the Jaffna District. The process is very slow and it is not up to standard. The Elections Commissioner's Department has not shown any intention to deploy the required manpower." When asked what reason the Department of Elections had given for this, he replied, "No reason has been given. They have knowledge that there is a shortage (of officials), but they are not addressing the issues.
"The only way to address this issue is to send additional manpower," says Tennakoon, adding that there are many Tamil-speaking government servants in the North whom the Department of Elections could employ at the GN divisions, to solve the present problem.
(For updates you can share with your friends, follow TNN on Facebook, Twitter and Google+)