Sri Lanka debates ending president's term limit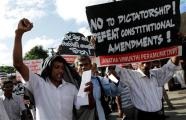 Sri Lanka's Parliament on Wednesday began debating a controversial amendment to the country's constitution that would allow President Mahinda Rajapaksa to hold unlimited number of terms, a move critics say could lead to a dictatorship
The government is likely to secure the two-thirds majority required in the 225-member Parliament to make the change, though the main opposition United National Party has boycotted the debate.
According to the current law, a president can hold office for two six-year terms, so Rajapaksa's term starting in November would be his last.
Prime Minister Dissanayake Mudiyanselage Jayaratne presented the amendment to Parliament and said there was nothing undemocratic in the proposals.
He said the president is being given the privilege of any other elected representative to seek office without a restriction.
Rajapaksa is popular among the country's Sinhalese majority for crushing a 25-year separatist insurgency by ethnic Tamil rebels.
But critics say that Rajapaksa has exploited this goodwill to consolidate power with the aim of setting up a family dynasty. Two of his brothers are senior ministers, another is defense secretary and his son is a lawmaker.
Also, the proposal scraps a provision that the president must seek the approval of the respective independent commissions in appointing officials for judiciary, police, public service and the elections office.
(For updates you can share with your friends, follow TNN on Facebook, Twitter and Google+)