Sri Lanka president wins constitutional power boost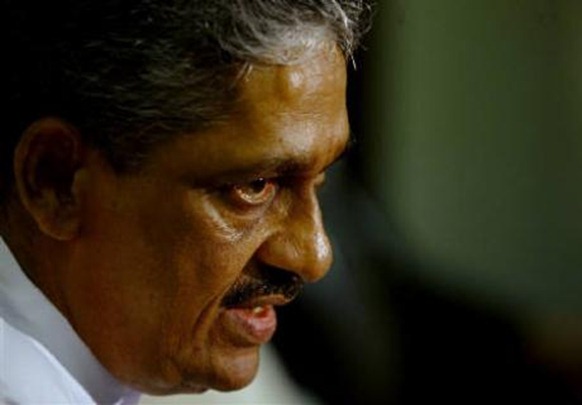 Sri Lanka's parliament on Wednedsay passed a constitutional amendment that grants President Mahinda Rajapaksa even more unchecked power, which had prompted opposition cries of a looming dictatorship.
Rajapaksa won 161 votes in favour of the 18th amendment that removes a presidential two-term limit and more crucially, unwound an earlier amendment designed to de-politicise appointments to the police, judiciary, public service and electoral commissions.
Wednesday's debate was largely a foregone conclusion as Rajapaksa had already engineered crossovers from opposition parties to boost his commanding parliamentary majority beyond the two-thirds, or 150 votes, required to change the charter.
Opposition and rights groups criticised the amendment, rushed through the supreme court and parliament in barely 10 days after the cabinet declared it an urgent matter, as a blow to democracy and a reneging of Rajapaksa's pledge to trim his powers.
Government supporters and opposition demonstrators both took to their streets during Wednesday's day-long debate.
The government argued the change was justified to give Rajapaksa, whose second term ends in 2017, time to build Sri Lanka's $42 billion economy after leading the Indian Ocean nation to victory over the Tamil Tiger separatists last year.
"Political instability is the last thing we want in Sri Lanka today as we seek to derive the fullest benefit for our people from the unique opportunity we have today having eradicated terrorism," Foreign Minister G.L. Peiris told parliament.
Sri Lanka's stock market, Asia's best performer this year, has gained 6.5 percent since the cabinet approved the changes on Aug. 29. Analysts have attributed the recent gains to positive sentiment about Sri Lanka's often combustible politics.
'COFFIN OF DEMOCRACY'
"This amendment is driving the last nail into the coffin of democracy," General Sarath Fonseka, who led the army to victory but fell out with Rajapaksa and unsuccessfully challenged him at the ballot box in January, told reporters.
Fonseka won a parliamentary seat despite being arrested and court-martialled for what the government said was politicking in uniform and other charges.
"The president is trying to take the country towards dictatorship and we will fight against it," he said.
Rajapaksa has parlayed last year's victory over the Tamil Tigers into re-election to a second term in January and a landslide for his United Peoples Freedom Alliance party in parliament in April.
However, critics accuse him of stifling dissent, jailing opponents and disregarding the rule of law as he holds an office that gives him almost unchecked control of the government.
Those presidential powers were put in place in 1978 by President J.R. Jayawardene, whose UNP then had a five-sixths parliamentary majority. He too argued that he needed the time and singular authority to drive economic reform.
Scholars say Sri Lanka's constitutional changes have helped fuel all of its post-independence conflicts, including the 1971 and 1988-89 uprisings by the Marxist JVP and the Tamil Tigers' three-decade separatist war.
The JVP, which drew its support from mainly rural and poor members of the Sinhalese majority, took up arms over economic injustice, while the Tamil Tigers initially fought over discrimination against Sri Lanka's Tamil minority.
Fonseka hinted at that past when he warned that the constitution could "suppress the people and the opposition".
(For updates you can share with your friends, follow TNN on Facebook, Twitter and Google+)