At UN, Ban Silent on Sri Lanka Repeal of Term Limits, Links, Panel Still Not Started
As Sri Lanka's Mahinda Rajapaksa moved to repeal term limits, and barred publication which criticized this as inconsistent with national reconciliation, the UN and Secretary General Ban Ki-moon stayed silent.
Inner City Press on September 14 pushed and asked Mr. Ban's spokesman Martin Nesirky about this, about why Ban's panel of experts on war crimes in Sri Lanka, announced in March, has yet to begin its work, and Ban's connections with Rajapaksa and Sri Lanka. Video here, from Minute 35:23.
Nesirky said that the UN and Ban have no comment on the repeal of term limits, calling it an internal matter. That's what Russia and China on the UN Security Council said about the bloody final stages of the conflict in early 2009. The Economist wrote that by the subsequent constitutional change, Rajapaksa showed he "preferred to put the consolidation of his family's power ahead of a sorely needed national reconciliation" — and then got banned. Nesirky offered the "general" thought that censorship is inconsistent with democracy.
Nesirky confirmed that Ban's panel still has not begun its work, that its four month clock has not begun. He said that the panel members will meet with Ban "this week." We'll see.
Inner City Press asked Nesirky to describe Ban's experience with Rajapaksa prior to becoming Secretary General of the UN, and to confirm that Ban's son in law Siddarth Chatterjee, while an Indian army officer, served in the Indian Peace Keeping Force in majority Tamil areas.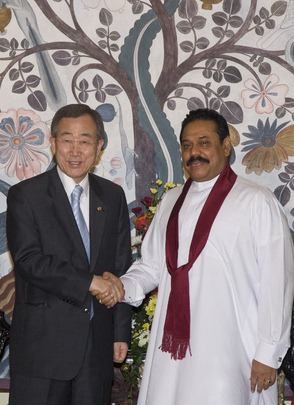 UN's Ban and M. Rajapaksa, repeal of term limits not shown
Nesirky said he would "get back" to Inner City Press on these. Watch this site.
Footnote: Mr. Ban held a press conference on September 13, but Inner City Press was not granted permission to ask a question. On September 14, Inner City Press was told no more questions were being allowed — so Inner City Press asked for an explanation of this limitation, that it wanted to ask about Sri Lanka. Video here, from Minute 31:18.
(For updates you can share with your friends, follow TNN on Facebook, Twitter and Google+)