European Court to review Jegath Dias case
A. Muller-Elschner, the legal secretary to the Registrar of the European Court of Human Rights (ECHR), said in a letter to the Swiss Council of Eelam Tamils (SCET), a Switzerland-based Tamil activist organization, that the European Court will take up the case against the appointment of ex-SLA commander Jegath Dias as a diplomat to the Sri Lanka embassy in Germany. SCET, the Norwegian Council of Eezham Tamils (NCET) and the US based NGO, Tamils Against Genocide (TAG), had filed an application to the ECHR in July 2010 charging the German government for violating EU Rights conventions by accepting a Sri Lankan military commander, Major General Jagath Dias, an accused in the war crimes.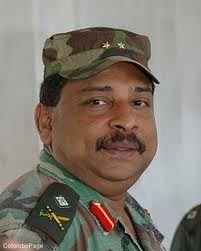 Arulnithila Deivendran of Swiss Council of Eelam Tamils who signed the charging papers sent to the ECHR told TamilNet: "The acknowledgement by the European Court of the acceptance of our pleading document (No. 45279/10) and the impending proceedings represent a substantial victory for the Swiss and Norwegian Tamils. This is likely to spur other active Tamil groups to pursue legal efforts until all ex-SLA commanders who are alleged to have committed war crimes are brought to justice in Courts outside Sri Lanka," Arulnithila said.
Sri Lanka has recently announced its desire to send several ex-SLA commanders with alleged complicity in war-crimes to different diplomatic posts outside Sri Lanka. Professor Francis Boyle, an expert in International Law, commenting on Colombo's effort said, "the Government of Sri Lanka (GOSL) is trying to sanitize and immunize their genocidaires/war criminals and thus regularize it all."
While similar legal efforts are underway in Norway and Denmark, spokesperson for Tamils Against Genocide (TAG), a US-based activist group key to the legal efforts, said: "TAG is preparing a legal brief for submission to the International Criminal Court (ICC) which argues that Vienna convention allows interpretation of the ICC-governing Rome Statute to provide discretionary powers to the ICC prosecutor to investigate non-signatory countries that alleged to have committed torture, war-crimes, and crimes against humanity. This legal argument, if successful, would remove the remaining hurdle to haul countries such as Sri Lanka before the ICC."
Following the filing of a complaint against the Federal Republic of Germany for violating the 'European Convention for the Protection of Human Rights and Fundamental Freedoms' in accepting Maj. Gen. (retd.) Jegath, Hon. Von Schubert, met with a delegation of the Swiss Council of Eelam Tamils (SCET) led by Tharsika Pakeerathan, the president of SCET, on the 28th July in Bern, Switzerland.
(For updates you can share with your friends, follow TNN on Facebook, Twitter and Google+)