At UN, Ban's 1st Meeting with Sri Lanka Panel Omitted From Schedule, Links Undisclosed
The panel of experts on war crimes in Sri Lanka, which UN Secretary General Ban Ki-moon announced in March, is supposed to complete its work within four months of formally beginning. On September 14, Inner City Press asked Ban's spokesman Martin Nesirky why the panel had not yet even begun. Nesirky replied that it would begin later in the week, by meeting with Ban.
Ban's published schedule for Thursday September 16, while listing a meeting with a Grand Master of the Urasenke Tradition of Team, did not list any meeting with the panel. Inner City Press asked Nesirky about it. Video here, from Minute 22:38.
Nesirky replied Ban's meeting with the panel would occur "today, this afternoon." Inner City Press asked, why wasn't it listed on Ban's schedule?
"Not everything is on the schedule," Nesirky replied.
What is the purpose of publishing the schedule that, if a meeting about war crimes is not listed?
"There are any number of reasons some things are on the schedule and some things are not," Nesirky said. "Internal meetings typically are not."
But Ban's meeting with, for example, the panel on the assault on the Gaza flotilla was listed.
Nesirky replied, "who's panel is it?" Good question — some now think it is Mahinda Rajapaksa's panel.
  On September 14, Inner City Press asked Nesirky to describe Ban's experience with Rajapaksa prior to becoming Secretary General of the UN, and to confirm that Ban's son in law Siddarth Chatterjee, while an Indian army officer, served in the Indian Peace Keeping Force in majority Tamil areas. Nesirky said he would "get back" to Inner City Press on these.
More than 48 hours later, Nesirky has provided no information in this regard. Watch this site.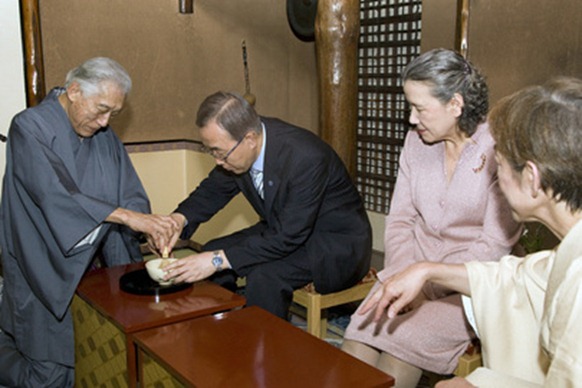 UN's Ban and tea, previously, Sri Lanka accountability (panel meeting) not shown
From the UN's September 14, 2010 transcript:
Inner City Press: On Sri Lanka, I wanted to ask this, since, recently there has been a removal of term limits on the president Mahendra Rajapaksa, saying that he can run forever, and The Economist magazine said that Rajapaksa has "preferred to put the consolidation of his family's power ahead of solely needed national reconciliation." The Government has now banned The Economist, this edition from the country. Since the Secretary-General, you know, has referred a lot to his May 2009 joint statement with Mr. Rajapaksa that includes references to accountability for war crimes and reconciliation, one — does he have any comment either on the extent that the elimination of term limits or on the banning of a publication? Two — the panel that he announced in March and that sort of convened once in July has it yet begun? Has the four-month clock begun? And just relatedly, two questions, can you describe the personal relationship of the Secretary-General with Mr. Rajapaksa, including prior to becoming Secretary-General? And, can you confirm that the Secretary-General's son-in-law served in the Indian peacekeeping force that occupied Tamil areas of Sri Lanka during previous peace negotiations? Just as a factual matter to know what the Secretary-General's connections to Sri Lanka are?
(For updates you can share with your friends, follow TNN on Facebook, Twitter and Google+)