Sri Lanka's ex-army chief vows to fight back from jail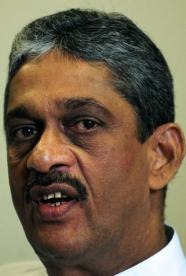 Sri Lanka's ex-army chief and opposition leader Sarath Fonseka on Sunday rejected his conviction at a court martial and said he would fight against a proposed three-year jail term.
Fonseka, in a statement released through his democratic National Alliance (DNA) party, said he did not accept Friday's verdict in a court martial which held he was guilty of corruption in defence procurement deals.
DNA spokesman Anura Kumara Dissanayake said the party rejected the court martial process as seriously flawed and would make a formal appeal to the civilian Court of Appeal "as a matter of routine".
"There is no justice in the country and we can't have any faith in the judiciary, but we will make a formal appeal as a matter of routine," Dissanayake told reporters in Colombo.
The military tribunal recommended that Fonseka be jailed for three years, a decision that is widely expected to be ratified by President Mahinda Rajapakse on his return from New York later this month.
Fonseka, 59, who became a national hero after leading the military to victory over ethnic Tamil separatists in May last year, fell out with Rajapakse and unsuccessfully tried to unseat him at January polls.
The culmination of the war effort last year was the killing of separatist supremo Velupillai Prabhakaran and his senior military commanders in a campaign that has since been dogged by war crimes allegations.
"If I am jailed for something that I did not do, I will work with more determination than what I displayed in destroying Prabhakaran. I will work to ensure that injustice is defeated," Fonseka said in his statement.
"There will be no mercy for those who worked to tarnish my honour."
He was arrested in February and remains in military custody.
Despite his detention at the naval headquarters in Colombo, the authorities have been ordered to escort him to parliament where he won a seat at April general elections.
His party said they will file a formal appeal in civilian courts on Monday against a first court martial verdict in August that stripped Fonseka of his pension and title.
It held that he had dabbled in politics before he quit the army in November to challenge his former commander-in-chief Rajapakse. The two men had squabbled over who should take more credit for crushing the Tigers.
A second court martial convicted him on the procurement corruption charge.
He also faces civilian charges of employing army deserters, as well as revealing state secrets — offences that carry a 20-year jail term.
Fonseka has also angered the government by saying he would willingly testify before any international war crimes tribunal. Rajapakse has vowed to prevent any such probe.
(For updates you can share with your friends, follow TNN on Facebook, Twitter and Google+)