Prime Minister rejects proposal to detain 'mass arrival' refugee claimants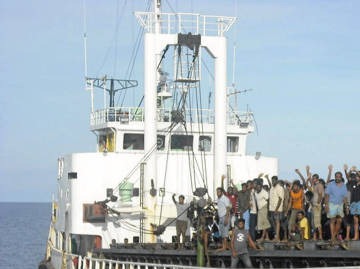 Prime Minister Stephen Harper has rejected a proposal to subject refugee claimants arriving off Canada's shores by ship to detention, ordering ministers and officials to target the ringleaders of human smuggling instead.
As the government struggles to craft a response to the arrival of two boatloads of Tamils over the past year, responsibility for the file has been placed firmly in the hands of Public Safety Minister Vic Toews rather than Immigration Minister Jason Kenney, even though changing refugee policy would ordinarily be in Mr. Kenney's court. The indicates the problem is seen now as a criminal matter rather than simply an immigration issue.
A proposal to create a new category of "mass arrival" refugee claimants who could be held in detention for two weeks while authorities investigated their backgrounds is off the table after Mr. Harper vetoed it at cabinet on Tuesday, government sources said.
He told them to focus more on stopping the people who bring the migrants here.
Apart from doing nothing to deter people desperate to reach the safety of Canada's shores, the mass arrival categorization would certainly have been challenged in the courts, said Sharryn Aiken, a professor who specializes in refugee and immigration law at Queen's University.
"It discriminates on the basis of mode of arrival," she observed on Tuesday. "… It creates a second tier of refugee claimant."
The refugee applicants from Sri Lanka present the Harper government with an intractable political and policy dilemma.
There is broad frustration among Canadians that smuggling rings are recruiting would-be refugees, charging them large sums of money and the ferrying them to Canada on unsafe vessels.
The arrival of 492 Tamil passengers on the MV Sun Sea in August focused that discontent, and the Conservatives vowed to crack down on those engaged in human trafficking.
But there are already strict laws against such activities. The problem is that the ringleaders typically reside offshore, far beyond Canada's jurisdiction, and it can be a challenge to identify the crew members of these vessels, who pretend to be passengers, with the real passengers fearing reprisals if they identify them.
Nonetheless, the Conservatives have made combating human trafficking a priority for the fall legislative session, in part because the issue fits with their no-nonsense law-and-order agenda.
"Human smuggling is a despicable crime, attempting to jump the queues is unfair, and abusing Canada's generosity for financial gain is utterly unacceptable," said Christopher McCluskey, Mr. Toews's director of communications. "We stated our intention to introduce legislation addressing this problem, the details of which will be announced when we are in the position to do so."
The number of refugee claimants arriving by ship is insignificant, given that 30,000 or so people apply for refugee status each year, less than half of whom ultimately qualify.
The only difference is "they happen to arrive in clumps," said Audrey Macklin, who specializes in migration law at University of Toronto.
"And yet because of the optics, it sets off a moral panic that you don't see with the other arrivals," she said.
(For updates you can share with your friends, follow TNN on Facebook, Twitter and Google+)