Colombo hurriedly readies military colony in Ki'linochchi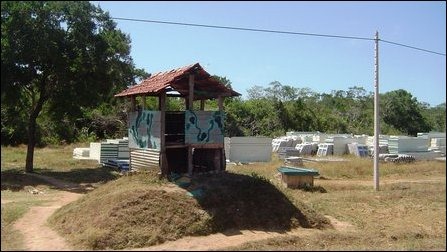 One hundred houses in the military occupation scheme consisting twelve thousand houses by the Sri Lanka government in Ki'linochchi district to colonize the Tamil land of Vanni with Sinhala families of Sri Lanka Army (SLA) are being hurriedly prepared for occupation. Families of one hundred SLA officers will take possession of them in an event to be held shortly, informed sources in Ki'linochchi said. Arrangements are under way for the event in which key persons of Sri Lanka Defence Ministry will take part. Meanwhile, the owners of the land, all of them Tamils, their properties encroached by Sri Lanka government for colonisation, are not allowed even to go to their places where the military colony is being constructed. Informed Tamil officials in Vanni also said that Colombo is using foreign funds donated in the name of resettlement of uprooted families of Vanni.
The housing scheme is located near Mu'ruka'ndi area on the eastern side of A9 road and the roads to the housing scheme, though completed, are yet to be connected to the A9 road, persons who visited the area said.
There is a distance of 300 to 400 meters left between the completed road and the A9 road.
Sri Lanka government is building 12,000 houses in this scheme to colonize Vanni with the families of SLA personnel and Sinhala families from South.
5,000 houses are being built in the first stage. With funds from China great quantities of construction material has been brought to the scheme.
The completed houses have cement flooring and semi-permanent fittings.
The SLA in Ki'linochchi does not allow any outsider to go to the area where the colonisation is being schemed.
(For updates you can share with your friends, follow TNN on Facebook, Twitter and Google+)