As Ban Meets Sri Lanka Rajajaksa, UN War Crimes Panel Not Mentioned
When Mahinda Rajapaksa of Sri Lanka met with the UN's Ban Ki-moon on Friday morning, Ban did not raise the slow starting UN panel of experts on war crimes in the country.
  Five hours after the meeting, the UN issued a terse summary of what was discussed. It mentions only Rajapaksa's own "Lessons Learnt" panel, and not the UN's.
Inner City Press, covering the meeting on Sudan later on Friday with a "free range" UN pass, noted Sir Lanka's Prime Minister G.L. Peiris seated on the North Lawn's second floor, reading.
In his previous trip inside the UN, Peiris refused to take any questions from the Press. In Washington, he walked out of a session at the National Press Club when he thought tough questions might be asked.
Neither he nor Rajapaksa have scheduled any press availability at the UN, unlike, only on Friday, the Presidents of Bolivia, Cyprus and Nigeria, to all of whom Inner City Press asked questions.
While Ban met with Nigeria's Goodluck Jonathan before he met with Rajapaksa, the UN's summary of the Nigeria meeting was issued hours before the Sri Lanka one. Does this reflect greater checking with or push back by Sri Lanka? Or, some ask, ineptitude in the UN's Sri Lanka team?
Its last read out about Sri Lanka came out at 10 p.m. When Inner City Press asked if it had been checked with the government, spokesman Martin Nesirky said no, there had just been a technical snafu. But how come a snafu on Friday as to Sri Lanka, and not Nigeria? Watch this site.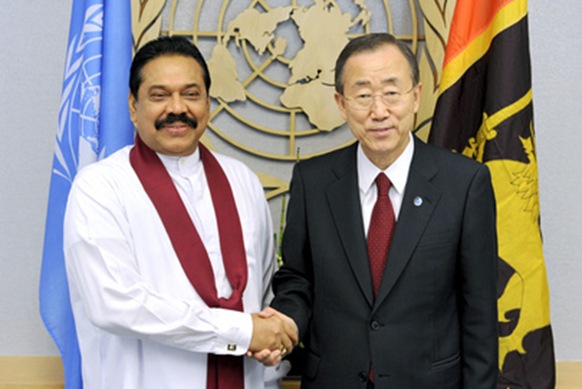 UN's Ban and M. Rajapaksa, Sept 24, war crimes panel not shown or mentioned
Here is the UN's Sri Lanka summary:
Subject: Readout of the Secretary-General's meeting with President Rajapaksa of Sri Lanka
From: UN Spokesperson – Do Not Reply <unspokesperson-donotreply@un.org>
To: [Inner City] Press
Date: Fri, Sep 24, 2010 at 4:42 PM
Subject: Readout of the Secretary-General's meeting with President Rajapaksa of Sri Lanka
Readout of the Secretary-General's meeting with President Rajapaksa of Sri Lanka
The Secretary-General's discussion with President Rajapaksa focused on the need to move forward expeditiously on outstanding issues covered in the joint statement of May 2009, particularly a political settlement, reconciliation and accountability. The Secretary-General underlined that the President's strong political mandate provided a unique opportunity to deliver on his commitments to address these issues. The President underlined that development and education in the North were integral to national reconciliation. He gave examples of progress made on reconstruction and rehabilitation efforts in this regard.
The President updated the Secretary-General on the work of the Lessons Learnt and Reconciliation Commission.
(For updates you can share with your friends, follow TNN on Facebook, Twitter and Google+)