As Sri Lanka Quotes UN Ban Undermining His Panel on War Crimes, UN Questioned
Shortly after the spokesman for UN Secretary General Ban Ki-moon issued a "read out" of Ban's September 24 meeting with Sri Lanka's Mahinda Rajapaksa which did not mention the UN panel on war crimes in Sri Lanka, Rajapaksa issued a statement that Ban told him the UN panel is "in no way empowered to investigate charges against Sri Lanka."
Three obvious questions at least arise. First, if Ban did in fact say this to Rajapaksa about the UN panel, why did Ban's read out mention only Rajapaksa own commission, and not the UN's? Can one believe in and rely on the UN's summary of Ban's meetings?
Also, if Ban said what Rajapaksa attributes to him, isn't this totally undermining any power the panel had?
Third, if Ban didn't say this, when is the UN going to request a retraction or correction from the Sri Lankan government?
As Inner City Press reported on September 24, the UN's summary of Ban's Sri Lanka meeting took significantly longer to issue than their summary of their meeting with the President of Nigeria, Ban's meeting just before Rajapaksa.
Inner City Press' understanding of the process, from the shifting explanations given by UN officials, is that if a summary only includes what Ban said, it is issued without conferring with the government he met with.
If the summary, like the September 24 UN summary of Ban's meeting with President Rajapaksa, includes something that the President said, it is a "joint" statement, negotiated and agree to with the government. In these cases, both sides — UN and government — are supposed to issue the same agreed to statement.
But as it has done before, Sri Lanka got Ban to issue an inordinately positive, some think inaccurate "joint" summary — and then nevertheless issued their own summary, including a quote in which Ban undermines the mandate of his own panel.
How will the UN respond? Watch this site.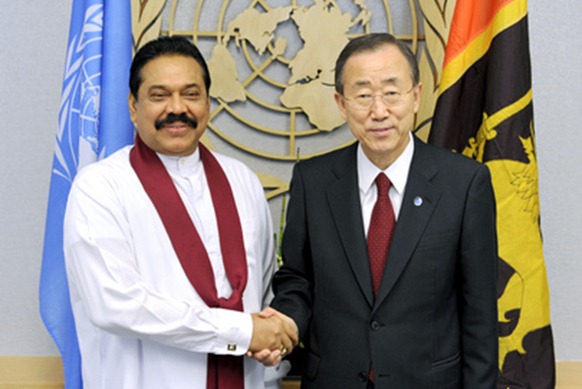 UN's Ban & Rajapaksa, Sept 24: was UN panel mentioned, & if so, how?
Compare this
"UN Secretary General Ban Ki-moon had yesterday told President Mahinda Rajapaksa in New York for the sessions of the UN General Assembly that his committee on Sri Lanka "was in no way empowered to investigate charges against Sri Lanka, but was solely to advice him on matters relating to Sri Lanka,'' according to a news release from the president's office."
to Ban's own summary:
Subject: Readout of the Secretary-General's meeting with President Rajapaksa of Sri Lanka
From: UN Spokesperson – Do Not Reply <unspokesperson-donotreply@un.org>
To: [Inner City] Press
Date: Fri, Sep 24, 2010 at 4:42 PM
Subject: Readout of the Secretary-General's meeting with President Rajapaksa of Sri Lanka
Readout of the Secretary-General's meeting with President Rajapaksa of Sri Lanka
The Secretary-General's discussion with President Rajapaksa focused on the need to move forward expeditiously on outstanding issues covered in the joint statement of May 2009, particularly a political settlement, reconciliation and accountability. The Secretary-General underlined that the President's strong political mandate provided a unique opportunity to deliver on his commitments to address these issues. The President underlined that development and education in the North were integral to national reconciliation. He gave examples of progress made on reconstruction and rehabilitation efforts in this regard.
The President updated the Secretary-General on the work of the Lessons Learnt and Reconciliation Commission.
(For updates you can share with your friends, follow TNN on Facebook, Twitter and Google+)