At UN on Sri Lanka, Ban Son in Law Called "Irrelevant," Rajapaksa Relations Still Undisclosed after Tete a Tete Meeting
With UN Secretary General Ban Ki-moon embroiled in controversies including about his personal and familial relations with Sri Lanka, Mr. Ban's spokesman Martin Nesirky declared on Wednesday that it is "irrelevant" whether Ban's son in law Siddarth Chatterjee served with the Indian military forces in Sri Lanka. Video here.
Back in March, Inner City Press had posed this question in writing to the Office of the Spokesman for the Secretary General, without getting any answer. So on September 13, Inner City Press asked it and another related question in the UN's noon briefing:
Inner City Press: …can you describe the personal relationship of the Secretary-General with Mr. Rajapaksa, including prior to becoming Secretary-General? And, can you confirm that the Secretary-General's son-in-law served in the Indian peacekeeping force that occupied Tamil areas of Sri Lanka during previous peace negotiations? Just as a factual matter to know what the Secretary-General's connections to Sri Lanka are?
Spokesperson Nesirky: … as the final two questions, I will get back to you.
Two weeks later, neither answer had been provided. In the meantime, Ban had met with Sri Lanka President Mahinda Rajapaksa and Nesirky's office had issued a summary, including that "[t]he President updated the Secretary-General on the work of the Lessons Learnt and Reconciliation Commission."
Ban's summary made no mention of the UN panel on war crimes in Sri Lanka. The Sri Lanka's Office of the President issues its own summary:
"UN Secretary General Ban Ki-moon had yesterday told President Mahinda Rajapaksa in New York for the sessions of the UN General Assembly that his committee on Sri Lanka "was in no way empowered to investigate charges against Sri Lanka, but was solely to advice him on matters relating to Sri Lanka,'' according to a news release from the president's office."
When Inner City Press on September 27 asked Nesirky to reconcile these summaries, he said it was normal for the UN to not comment on president's summaries of talks with the Secretary General — despite having done so with, for example, Sudan.
On September 29, Ban adviser Nicholas Haysom told Inner City Press that the UN summary including a paragraph of President Rajapaksa's comments was not normal. He said there was a one on one, tete a tete, meeting between Ban and Rajapaksa, of a type he said took place in one in ten, or one in twenty, of Ban's meetings. Why was it not included in the UN summary?
Nesirky refused to say which other of Ban's meetings had tete a tete portions. Inner City Press asked about his statement, two weeks previously, that he would "get back" to Inner City Press about Ban's relations with Rajapaksa, and Ban's son in law's relations with Sri Lanka.
Nesirky now insisted that this latter, about son in law Siddarth Chatterjee, was "irrelevant."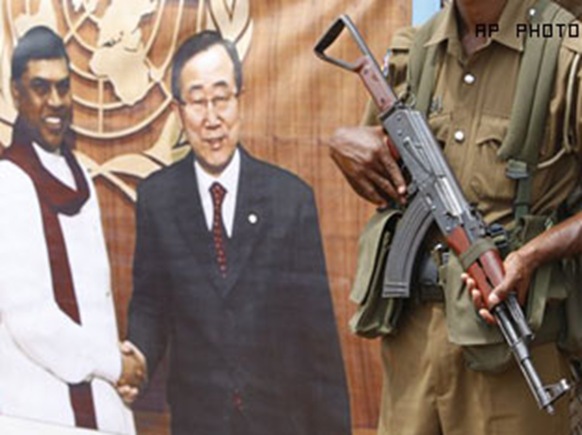 UN's Ban depicted in Sri Lanka camp, son in law not shown
Ban's office has previous sought to cut off questioning about Ban's son in law, including his rapid rise through the UN system. In 2009, Inner City Press asked Nesirky's Office in writing to "please state from where the S-G's son in law Mr. Chatterjee got his degree(s), and the status of his case(s) with Ms. Shipra Sen."
Ms. Shipra Sen had contacted Inner City Press, saying she could not otherwise get justice. She was married to Siddarth Chatterjee before he became involved with Mr. Ban's daughter Ban Hyu-yee. Ms. Sen states that Chatterjee used his connections to quash her in court, and that she had more recently contacted her to threaten her against speaking to Inner City Press.
Ms. Sen has described to Inner City Press Mr. Chatterjee's time with the Indian military whose time in Sri Lanka included charges of abuse and even war crimes, including graphic descriptions which make questions about Sri Lanka and Ban's son in law far from irrelevant.
(For updates you can share with your friends, follow TNN on Facebook, Twitter and Google+)