On Ban's "Abnormal" Understanding with Sri Lanka's Rajapaksa, UN Won't Answer
The UN's stonewalling on Sri Lanka expanded on October 1 with the Spokesman for Secretary General Ban Ki-moon dodging whether Ban reached a private understanding with President Mahinda Rajapaksa that Rajapaksa could represent what Ban said in a one on one meeting about the limits of the UN war crimes panel.
"It's up to individual heads of state" to issue whatever summaries they want, Spokesman Martin Nesirky said.
But did Ban reach an understanding with Rajapaksa, that he could say things not included in Ban's own summary of their meeting? Nesirky did not answer. Video here, from Minute 47:28.
Inner City Press asked again, as it has for months, for a desciption of Ban's contacts with Rajapaksa, including before and as Ban became Secretary General.
After having promised already to provide the answer, Nesirky on October 1 said he didn't understand the question: a list of meetings? Yes, of meetings and topics and whether Ban considers Rajapaksa a personal friend.
How else to explain what Ban's adviser Nicholas Haysom called the "abnormal" summary of the two men's meeting — which unlike other UN summaries included the President's as well as Ban's words — and the separate understanding about Rajapaksa issuing his own summary?
Nesirky has still refused to explain how the "abnormal" summary of Ban's meeting with Rajapaksa was produced. Hayson, for one, seemed surprised to see its content.
That Nesirky couldn't or wouldn't explain how it was produced implies that Nesirky was not involved in his preparation. Who was, then?
On the question of Ban's son in law Siddarth Chatterjee's involvement in Sri Lanka, with the Indian army force, Nesirky deemed it "irrelevant" two weeks after saying he would answer it. On October 1, Inner City Press asked if Nesirky had even deigned to ask Ban or his Office about it — that is, whether Nesirky had the answer and wouldn't provide it, or didn't even have the answer. Even this was not answered.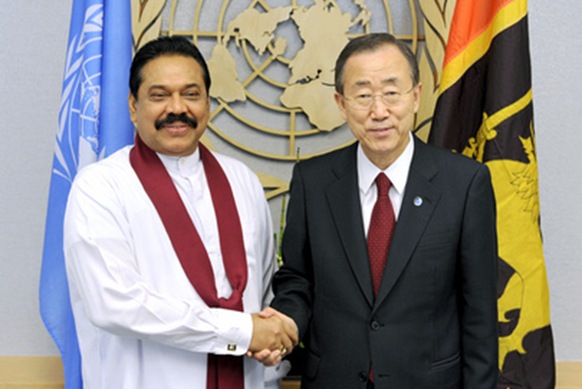 UN's Ban and Rajapaksa September 2010, understanding not shown
Nesirky concluded by repeating that there are a lot of other issues than Sri Lanka: the Middle East, Myanmar…
  After Inner City Press agreed but noted that Sri Lanka is the only country in which Ban has been burned in effigy – and from which people protested his speech at a midtown Manhattan hotel — and that an "abnormal" summary of his meeting with the President had been issued, Nesirky asked if Inner City Press was saying that because of the burning in effigy, the summary was different. Perhaps it was a rhetorical question.
(For updates you can share with your friends, follow TNN on Facebook, Twitter and Google+)