Mine clearance projects axed as coalition cuts funds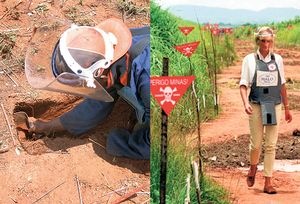 Britain's humanitarian commitment is in doubt after the Government axed life-saving, de-mining programmes in five war-torn countries, The Independent on Sunday can reveal. The Department for International Development (DFID) has abandoned vital projects in Sri Lanka, Angola, Afghanistan, Somalia, and Colombia, leaked documents show.
Mines are rife in the five nations, which have all endured devastating conflicts. Last year alone, experts discovered 19,119 areas studded with mines across these states and removed more than 100,000 explosive devices. As the worst affected country, Angola has most to lose from the cull.
A senior US official last night criticised the Government for pulling the plug on projects in southern Africa. Dan Mozena, a former US ambassador for Angola who was in charge of a $6m (£4m) de-mining budget, said he was "stunned" by the news. "I cannot believe what DFID is doing. It will mean the maiming and killing of people will continue apace [as] people go back to [mine-ridden] rural areas which were depopulated. "The casualties will continue unless these mines are pulled out, and they will not get pulled out on their own," he said.
He called for the UK government to reverse its stance. "My government remains fully committed to this. But we cannot do this ourselves. It takes a partnership. DFID pulling out of this effort is exactly the wrong thing to do," he said.
Leaked DFID documents seen by the IoS shows the UK's funding for de-mining in Angola has already been cut. The department claimed it was not worth bothering to remove mines in remote rural areas.
Halo, the landmine clearance organisation supported by the late Princess Diana and Prince Harry, began winding down its Angolan de-mining operation when funding ran out on 1 October.
Halo's chief executive, Guy Willoughby, said DFID funding is crucial. "These are villages that are hugely impacted by landmines from the wars in Africa in the 1980s and 1990s. These villages are not remote; no more than Birmingham or Inverness. These are really unfair comments to make. If you look beyond the reach of Oxfam and Save the Children there is no international aid and no mine clearance. This is where DFID's policy is upside down and it contradicts what Unicef is saying."
A Unicef report last month, Narrowing the Gaps, revealed that targeting deprived rural and urban slum areas is more effective than funding easy-to-reach communities.
Despite vast petroleum exports, Angola is one of the world's poorest countries, with more than 70 per cent of its population living on less than $2 per day. In 2008 alone, Halo destroyed 12,024 mines in Angola, at a cost of $8.1m, or about $670 per mine.
Rory Forbes, Halo's programme manager in Angola, said: "In terms of our operations, we have almost shut down. Partly because DFID has pulled out, other donors have followed suit. DFID is the most significant part of our operations so it's a big loss. The minefields are not in the middle of the village square, but they are literally in people's gardens or next to their house," he said. "The last guy I know of who stepped on a mine and lost a leg was about five months ago, 200 metres from the airport. Since the end of the war, and as the population expands, people have been moving into areas on the outskirts of the villages that were mined during the war."
(For updates you can share with your friends, follow TNN on Facebook, Twitter and Google+)