Sri Lanka's war probe slams rights groups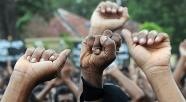 Sri Lanka's government-appointed war probe Friday reprimanded foreign rights groups that rejected an invitation to testify and said the local panel should not be judged by "preconceived notions".
Sri Lanka's Lessons Learnt and Reconciliation Commission (LLRC) said it will "strongly safeguard" its independence despite the "ill-founded misgivings" of three international human rights groups which had been invited to testify.
New York-based Human Rights Watch, London-based Amnesty International and Brussels-based International Crisis Group on Thursday snubbed an invitation to appear before the LLRC, accusing it of a cover-up.
"The independence and impartiality of the commission, in all fairness must be judged by the performance of the commission and not on the basis of preconceived notions," the Sri Lankan panel said in a letter.
"Despite your ill-founded misgivings about the outcome of the commission's work, the commission will strongly safeguard its independence and will continue to work towards fulfilling its mandate," the panel said.
The panel, headed by a retired attorney general, said its investigation will address "important issues raised by witnesses, including matters relating to international humanitarian law, reconciliation and governance".
In a joint letter issued in New York on Thursday, the three rights groups said there was little to be gained by appearing before such a "fundamentally flawed commission".
"Accountability for war crimes in Sri Lanka demands an independent international investigation," they said, while accusing several members of the local panel of being government loyalists.
The rights groups have long accused government forces of ordering civilians into a "no-fire zone" and shelling them in the final stages of fighting between government troops and Tamil Tiger separatist rebels in early 2009.
The three groups have said that up to 30,000 ethnic Tamil civilians perished in the final months of the conflict, which ended when the rebels were wiped out in May 2009.
Sri Lanka has denied any civilians were killed by its troops and blamed Tamil Tigers for using human shields. Colombo has also rejected an independent international probe and refused to allow UN investigators into the island.
"In the current context of human rights violations in Sri Lanka, even an independent and fully empowered commission would face grave difficulties in pursuing accountability or contributing to lasting reconciliation," the rights groups said.
"Anti-terrorism laws and emergency regulations grant extraordinary and arbitrary powers to the military and police and continue to be used to target critics of the government."
The LLRC began public hearings in August and is said to be taking testimony from ethnic Tamils in the island's former war zones, but the international media have been barred from travelling to the area to cover the proceedings.
(For updates you can share with your friends, follow TNN on Facebook, Twitter and Google+)