Birth centenary of V. Navaratnam, pioneer of Tamil Eelam polity
18 October 2010 is the birth centenary of V. Navaratnam, doyen of the Tamil Eelam cause and founder leader of Thamizhar Chuyaadchik Kazhakam (TCK) in the late 1960s. TamilNet interviewed him in July 2005 when he was 95 years old. He passed away on 22 December 2006. Eezham Tamils and Sinhalese could never live under one government, even a confederation will not work and separation is the only way, he asserted in his interview. When his party contested the 1970 election there was only a little support. He was criticized for dividing the vote bank of the Federal Party. But within a few years all the mainstream Tamil political parties fell in line with his polity. The Vaddukkoaddai Resolution of 1976 was a copy of his party manifesto, said Mr. Navaratnam. His interview in voice is reproduced here.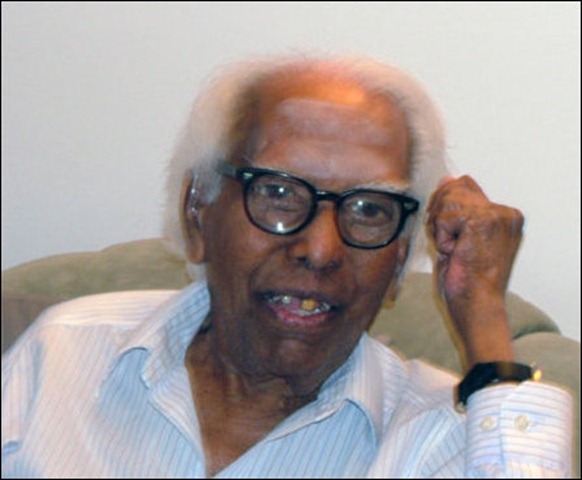 MP3 Audio: TamilNet Interview with V. Navaratnam (Tamil) [8 MB]
Born in Karampan in the Kayts Island on 18 October 1910, Mr. Navaratnam was educated in Ceylon Law College. He was Attorney-at-Law for 58 years and was Member of Parliament from 1963 to 1970, representing the Kayts constituency.
Mr. V. Navaratnam and Dr. E M V Naganathan were the Joint Founder General Secretaries of the Federal Party when it was formed in 1949 under S J V Chelvanayagam as its Founder President.
In 1970 when Navaratnam's newly formed party contested in limited constituencies, all candidates lost including Mr. Navaratnam. There was criticism that a well-respected candidate of his party, Mr. A Ratnam [a former Survey Superintendent] contributed only to the defeat of Federal Party stalwart Mr. E M V Naganathan in the Nalloor constituency and to the narrow victory of Arulambalam of the Tamil Congress who later collaborated with Colombo.
But within six years, Navaratnam's polity became acceptable to all the Tamil parties, including the communists led by Mr. V. Ponnampalam, who earlier defending the 1972 constitution challenged Mr. Chelvanayagam in the Bye-election of 1975.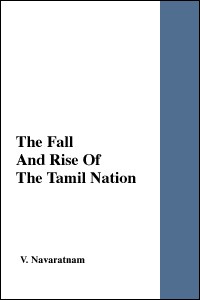 Mr. Navaratnam authored the book, "The Fall and Rise of The Tamil Nation" in 1991, while spending his last years in Montreal, Canada. It had a second edition in 1995. Tamil sovereignty is not negotiable was one of the main themes of his book.
In his opinion in 2005, he wanted the Eezham Tamils to declare Unilateral Declaration of Independence (UDI). He said that he was very much looking forward to it.
'Sri Lanka' is not 'Ilangkai'. Sri Lanka that came with the1972 constitution is illegal and its constitution is illegal. All the Constitutional efforts after independence had the aim of only subjugating Tamils, he said.
The following are abridged excerpts of his 2005 interview:
Nothing is going to happen in Oslo. I don't expect Pirapaharan to be deceived. Even the [Norwegian mediated] P-TOMS has now become a deception, Mr Navaratnam said in the interview.
The LTTE might have thought that some thing could be achieved through the ISGA, but in my opinion nothing is going to come out of it. There is nothing the Tamils could get by the Sinhalese giving it. People who are involved in this process may think there could be some shortcuts. But, I have no faith. How many agreements were there in the past? Not even a single clause of them was implemented. The LTTE has now taken a line, I don't understand much of it, but I don't expect anything positive, Mr. Navaratnam commented on the developments of 2005.
Norway may have good intentions, Mr Navaratnam said, but he sounded sceptical on any positive outcome through the involvement of Norway as he saw it as a part of the international politics.
What is appropriate now is to declare UDI and get separated, he reiterated.
There is no point in any talks. They all serve only to deceive Tamils. Unless there is separation the Tamil nation will be ruined was my conviction even in those days. Tamils and Sinhalese can never live under one government. The attitudes will not permit.
Even a confederation will not work.
We started asking for federation. All our democratic efforts in this respect failed. That is why I started the Thamizhar Chuyaadchik Kazhakam. If needed for co-existence, the Tamil nation-state and the Sinhala nation-state could enter into bilateral treaties and agreements. But there shouldn't be any continued hooks as such a confederation. India or any other country should not instruct us on our national aspiration. We have to look after ourselves.
On India Mr Navaratnam observed: There are two Indias, New Delhi is different from India. New Delhi doesn't realize its friends, or perhaps thinks that it could enjoy the benefits while keeping Tamils, whose goodwill is taken for granted, as subjugated.
The media should enlighten the people in this regard. My blood boils when I read what the Indian mainstream media writes.
The International Community has very little experience on the attitude of Sinhala polity. Only recently they realise a little, but what they see is only the tip of the iceberg, Mr. Navaratnam said.
The IC should see the past history, but the big impediment in the IC realising the true picture is that the Sinhala government is always successful in getting some Tamil collaborators to cast a deceptive image to the world. They only help Colombo to deceive the world."
The trend started with Thiruchelvam (Sr.), Navaratnam said adding that Luxman Kadirgamar got associated with Chandrika Kumaratunga through Neelan Thiruchelvam.
Kadirgamar now regrets for having a Tamil identity on him and he tells the world to look at him as a human and not with a tag on him as a Tamil.
His grandfather comes from Ma'nkumpaan [in the Kayts island] and he was educated at Jaffna College. His elder brother Rajan Kadirgamar, who was once the Naval chief of Ceylon, was thinking differently compared to him. Rajan Kadirgamar had a dream of developing a harbour of international importance by deepening the waters surrounded by the seven islands off the Jaffna peninsula. He had the feeling as a Tamil.
I realized that Tamil were going to be deceived immediately after the 1965 elections when Thiruchchelvam [father of Neelan Thiruchelvam, who was then a Federal Party leader] entered into talks with Dudly Senanayake and accepted a ministerial post in his government. In 1968 it was confirmed [Dudly – Selva Pact for power devolution was abandoned].
Thiruchelvam conceded Trincomalee. Amirthalingam agreed to write off Seruvavila. They helped the Sinhalicisation process.
The FP leaders including Selvanayakam shouldn't have participated at all in the Constitutional Assembly of 1972. 'We should participate, but if they reject, we should come out' was his position. [VN was implying that by doing so they gave legitimacy to an illegitimate and one-sided constitution].
There is a long history. Sir P Ramanathan realized the deceit that was taking place, but after him even his own nephew A. Mahadeva and his son-in-law Nadesapillai didn't realize. Later, G. G. Ponnampalam was dragged into this line of politics. Most of them becoming Colombo Tamils was the problem.
Some of these leaders were then advising Tamils that if something was not possible, one should forget about it. They were telling this against Tamils for their rights. 'We asked, but they didn't give it, so we should forget it', was their line of argument.
In Pirapaharan's politics such collaboration injustices cannot take place.
The strategy of the Sinhala leaders is to drag on in the guise of peace talks. They expect to achieve their aims either after the time of Pirapaharan or by making him agreeable when he becomes old. They expect Pirapaharan to behave like Suntharalingam and Ponnampalam who were collaborative when they became old. 'How long Pirapaharan can be there, another Pirapakaran cannot come after him', is their thinking.
The Colombo government adopting all bad examples of others is not caring to learn good lessons from them, Navaratnam said, citing what lessons had to be learnt by the colonisation and settlement crises in Northern Ireland and Palestine. The colonisation programme of Colombo will lead to dangerous consequences, he said.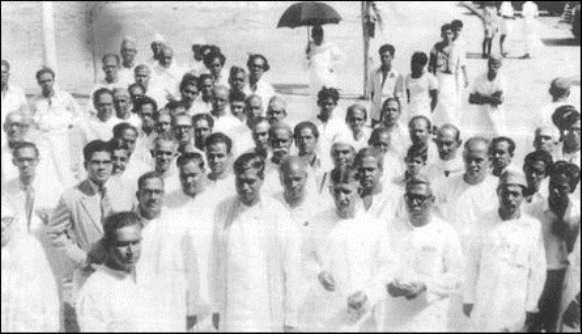 Federal Party leaders at the Trincomalee Convention, August 1956. (L-R) M. M. Mustapha, MP for Poththuvil, K. Thurairatnam (smiling), MP for Point Pedro, N. R. Rajavarothayam (foreground), MP for Trincomalee and Chairman of the Reception Committee for the Convention. V. A. Kandiah, MP for Kayts, A. Amirthalingam, MP for Vaddukoaddai, C. Vanniyasingam, MP for Koappaay and President of the Party for the year. S. Sinnathurai (with mustache) retired Postmaster and administrative secretary in charge of Party headquarters at 2nd Cross Street, Jaffna. S. Nadarajah (later Senator), S.J.V Chelvanayakam, MP for Kaangkeasanthu'rai and Leader of the Party (holding thalikody and neckchains of gold donated by Trincomalee women), V. Navaratnam, then General-Secretary of the Party and Organizer of the Convention and later MP for Kayts (holdig rupee notes donated by the public) and Dr. E.M.V Naganathan, Joint General-Secretary, later MP for Nalloor.
(For updates you can share with your friends, follow TNN on Facebook, Twitter and Google+)