S.Lanka minister slams 'colonial' rights groups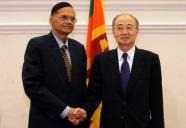 Sri Lanka's foreign minister Gamini Lakshman Peiris rejected "colonial" criticism Tuesday of a government-appointed civil war probe, after foreign rights groups snubbed an invitation to attend.
New York-based Human Rights Watch, London-based Amnesty International and Brussels-based International Crisis Group last week accused the panel of a cover-up and refused an offer from Colombo to appear before it.
Peiris said in a speech to the International Institute for Strategic Studies, a leading think-tank based in London, that the rights groups had displayed a "most unattractive attitude."
"It smacks of an attitude that is almost colonial, patronising and condescending, the assumption being that other people must step in because Sri Lankans are unable to chart a course for their own future," he said.
The rights groups have long accused government forces of ordering civilians into a "no-fire zone" and shelling them in the final stages of fighting between government troops and Tamil Tiger separatist rebels in early 2009.
The United Nations has said that at least 7,000 ethnic Tamil civilians were killed in the final months of the conflict. Rights groups say up to 30,000 civilians perished.
Sri Lanka has denied any civilians were killed by its troops and has rejected a separate UN probe into alleged rights abuses. The UN's offices in Colombo were blockaded by protesters earlier this year.
The Lessons Learnt and Reconciliation Commission (LLRC) began public hearings in August and is said to be taking testimony from ethnic Tamils in the island's former war zones.
But international media have been barred from travelling to the area to cover the proceedings.
Peiris, who is in London for talks with the British government, said the LLRC was based on similar reconciliation commissions in countries such as South Africa.
He urged rights groups and exiled Tamil organisations not to "begin with negative presumptions."
(For updates you can share with your friends, follow TNN on Facebook, Twitter and Google+)