S.Lanka reveals haul of civilian gold from war zone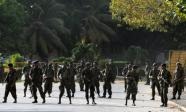 The Sri Lankan government has said its troops collected more than four million dollars worth of gold jewellery during the defeat of the Tamil Tiger rebels.
Chief government whip Dinesh Gunawardena told parliament on Wednesday that security forces picked up the precious items during the final months of the decades-long civil war last year.
"The army's 58th division and the military police found 110 kilos of gold jewellery. The value of the jewellery is about 490 million rupees (4.4 million dollars)," Gunawardena said.
The haul "was being legally handed over to the Central Bank of Sri Lanka," he said, without giving further details.
The Civil Monitoring Commission (CMC), a Tamil rights group, said the government should trace owners and return all the goods.
"We don't know where the military found this jewellery, but what is clear is that it belongs to Tamil civilians," CMC chief Mano Ganeshan told AFP.
"Even if the military seized it from rebel-run banks, the rightful owners are Tamil civilians and they should get their property back."
Hundreds of thousands of ethnic Tamil civilians were displaced during fighting between government forces and separatist Liberation Tigers of Tamil Eelam. Many left their valuables behind as they fled.
The government claimed victory over the rebels in May after killing their leaders in a military onslaught that sparked widespread international criticism.
After the war, displaced civilians were held in internment camps guarded by troops before being allowed their freedom.
(For updates you can share with your friends, follow TNN on Facebook, Twitter and Google+)