At UN, Sri Lanka Panel's Darusman Mulls Requesting Visit, Kohona Says "Let Him Ask"
The panel of experts on war crimes in Sri Lanka named by UN Secretary General Ban Ki-moon has been virtually invisible, including its silent launch on October 18 of solicitation of submissions of evidence.
  But on October 22 at a UN meeting about North Korea, Inner City Press spoke with both the panel's chairman Marzuki Darusman and its lead staffer Richard Bennett.
Inner City Press asked Darusman if he or the panel has yet put in a request to travel to Sri Lanka. No, Darusman said. Inner City Press asked if making such a request — of which at least one panel member has spoken in favor — should be expected in the future. We are discussing it, Darusman said.
  Then the panel's staffer Richard Bennett approached Inner City Press and introduced himself. Inner City Press asked why the panel's solicitation of submissions hadn't yet been put on any UN web site, or otherwise made public.
Bennett said there had been technical problems, but that the solicitation should go on a UN website soon. Inner City Press encouraged him to forward any pertinent information about the panel's work.
Across the hallway in the UN's North Lawn Building, Ban Ki-moon was speaking to a closed session of the General Assembly, about the upcoming G-20 meeting in Seoul, South Korea. (Sources tell Inner City Press that statements of support for a second term for Ban are being solicited to be unveiled in Seoul at the G-20, as they were not at the General Debate last month in New York.)
  Through the windows of Conference Room 2, Inner City Press watched Sri Lanka's Permanent Representative Palitha Kohona go up and greet Ban, then his chief of staff Vijay Nambiar. As Kohona turned to leave the building, Inner City Press asked, if Darusman and the panel make a request to visit Sri Lanka, will it be granted?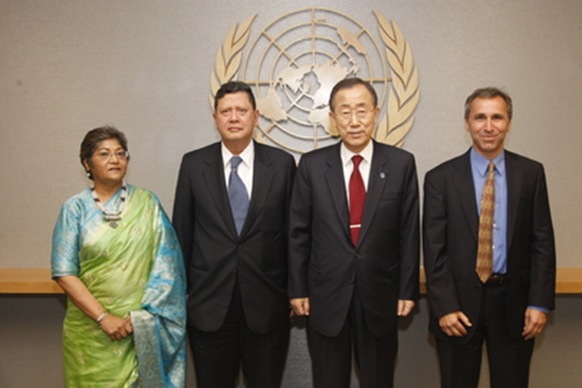 Ban & Darusman, Yasmin Sooka & Steven Ratner, entry to Sri Lanka not shown
  There's no reason to speculate, Kohona replied.
  But since the government has already indicated any request will be denied, Inner City Press asked, has anything changed?
"Let them ask," Kohona said. "Things can change."
(For updates you can share with your friends, follow TNN on Facebook, Twitter and Google+)