Sri Lanka president drops out of Britain visit over arrest fears
Sri Lanka's president has become the latest foreign leader to drop out of a planned visit to Britain out of fears that dissident activists could engineer his arrest under the UK's liberal human rights laws.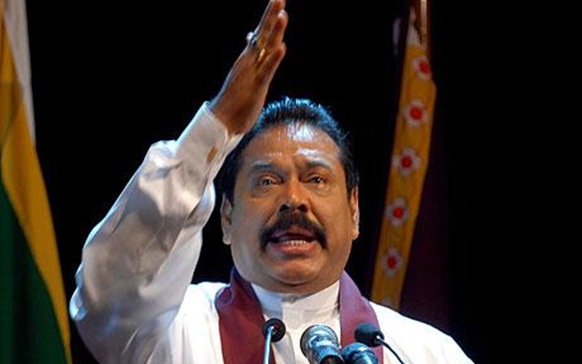 Sri Lankan President Mahinda Rajapaksa has become the latest foreign leader to drop out of a planned visit to Britain Photo: EPA
Mahinda Rajapaksa called off a visit to address the Oxford Union after lawyers raised fears that a court would issue an arrest warrant on war crimes charges relating to the successful campaign against the Tamil Tigers. As head of state, Mr Rajapaksa has diplomatic immunity but doubts were raised over the absence of an official meeting on his itinerary.
PM Amza, Sri Lanka's deputy high commissioner in London, said the country had looked at the implications of British laws allowing courts to apply universal jurisdiction to war crimes charges. "This is a domestic issue for Britain, but we have taken note of the issue," he said.
Magistrates' courts in Britain have the power to issue warrants on war crimes charges. The scope of the power has become a diplomatic minefield as every other country allows the government the right to stop an arrest in the national interest.
Furious diplomatic protests spearheaded by Israel – whose deputy prime miniser, Dan Meridor, called off a similar private visit last week – forced the Government into a pledge to change the law.
A date to put an amended law before the House of Commons is expected to be announced this week. But it is expected to encounter opposition from Labour and some Liberal Democrat MPs. An early day motion by Jeremy Corbin, the Left-wing MP, opposing a review was signed by 53 Lib Dem MPs last year.
(For updates you can share with your friends, follow TNN on Facebook, Twitter and Google+)