New photos allege Sri Lanka war abuse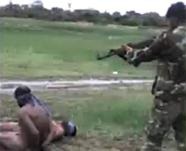 New photos emerged Thursday of piles of dead bodies and execution-style killings allegedly taken during the final stages of Sri Lanka's civil war which ended in May last year.
Broadcaster Al-Jazeera said it had obtained the images from an unnamed Tamil source who said they had been taken by a member of Sri Lanka's military.
Some of the disturbing photographs show bodies with twisted limbs piled on the back of a trailer, others show almost naked corpses, blindfolded and with hands bound behind their backs, lying in shallow graves.
Al-Jazeera said it was unable to verify their authenticity, adding that it was unknown if the bodies had been collected after a clean-up or were the result of a massacre.
The military onslaught against the Tamil Tiger rebel group has been dogged by allegations of war crimes, with the United Nations, Western powers and rights groups pushing for a probe of possible violations by both sides.
Other similar photos and video footage have emerged in the past.
In January, UN human rights envoy Philip Alston concluded that video footage said to be of Sri Lankan troops executing unarmed Tamil Tiger rebels was authentic and urged Colombo to accept a war crimes probe.
"These photos provide compelling reasons for why there should be an independent international investigation into what happened," Yolanda Foster from rights group Amnesty International told Al-Jazeera.
Sri Lanka has set up its own probe, the Lessons Learnt and Reconciliation Commission (LLRC), which critics say lacks credibility and is intended to cover up atrocities.
Authorities have blocked the international media from covering the proceedings.
The BBC complained again Thursday that its journalists had been prevented from travelling to hear witnesses testify.
Sri Lankan authorities have allowed foreign journalists to the former conflict zone as part of guided tours, but not allowed them independent access to the region.
The government, led by President Mahinda Rajapakse, rejects any accusation of war crimes and says no civilians were killed during the fighting.
Al-Jazeera said the government had denied that its photographs were genuine. AFP was unable to reach the government on Thursday, with ministers busy dealing with the worst flooding in the capital in years after a severe rain storm.
New York-based Human Rights Watch, Amnesty International and Brussels-based International Crisis Group say up to 30,000 ethnic Tamil civilians perished in the final months of the conflict.
(For updates you can share with your friends, follow TNN on Facebook, Twitter and Google+)