SLN, EPDP intimidate LLRC witnesses in Jaffna islets
Members of the Sri Lanka Navy (SLN) Intelligence Unit and of the Eealam People's Democratic Party (EPDP) Sunday intimidated many potential witnesses who were planning to appear before the Lesson Learnt & Reconciliation Commission (LLRC) during its sessions in the SLN controlled islets of Jaffna, persons present at the sessions said. Some government officials too are alleged to have assisted the intimidators. A press reporter who had filmed a man intimidating one of complainants had threatened the reporter with death and when this was brought to the attention of the head of LLRC with the assistance of the officials of American and Norway officials present at the site, the man was arrested by the police who recorded his statement and let him free, the sources added.
The intimidation was aimed at to stop press reporting on the statements by persons victimized by Sri Lanka Armed Forces during the last stages of the war on Vanni to local and international media, the sources said.
The number of persons coming forward to witness before LLRC in the islets of Jaffna was much less compared to the number of persons who had earlier witnessed in Jaffna peninsula.
The islets of Jaffna held under total control of SLN and EPDP a constituent in the ruling United People's Freedom Alliance (UPFA) are places including Allaippiddi where many had been killed, forced to disappear allegedly by SLN soldiers and EPDP men.
The persons coming to testify before the LLRC were intimidated and forced to go away so as not to allow anyone to give statements of instances of killings and disappearances mentioned above, sources in Oorkaavattu'rai said.
The efforts by the intimidators to limit the number of complainants were most evident when Velayutham Thayanithi (Daya master) who was formerly employed by the LTTE as media coordinator, was witnessing before LLRC in St. Henry's Church in Oorkaavattu'rai. Mr. Thayanithi is now employed by pro-Colombo, EPDP-backed DAN TV.
The LLRC sessions in the islets of Jaffna took place in Oorkaavattu'rai, Veala'nai and Ma'nkumppaan.
Sri Lanka Police Criminal Investigation Department (CID) men were also present at the LLRC sessions along with the SLN and EPDP men intimidating the complainants with their bare presence, the sources further said.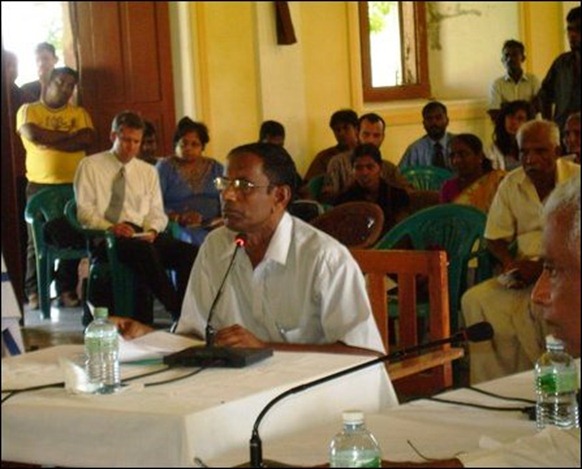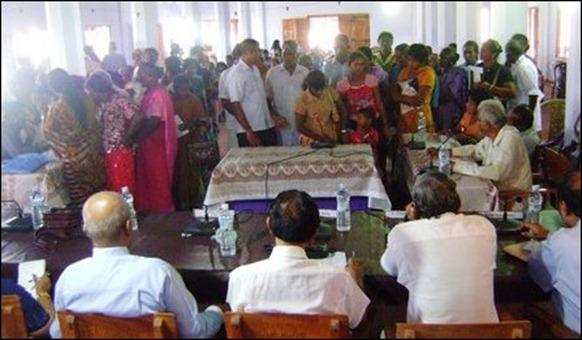 (For updates you can share with your friends, follow TNN on Facebook, Twitter and Google+)