Sri Lanka fallen under dangerous authoritarianism, says Rae
"Sri Lanka has now fallen into a dangerous authoritarianism with the Rajapaksa brothers and their government fully in control. They can point to elections as the source of their legitimacy, but the evidence of a politicized judiciary, widespread corruption, and a deeply repressed and partisan media is a troubling reflection of a political agenda that is leaning far away from the respect for rights and diversity that lies at the heart of the democratic idea," writes Mr Rae, former Ontario Premier, in a book published in 2010, excertps from which appeared in Canada's National Post. Rae also faults Prabhakaran for developing a "militant cult of personality and exclusionary nationalism" which "set the country on a course of conflict that proved irreversible."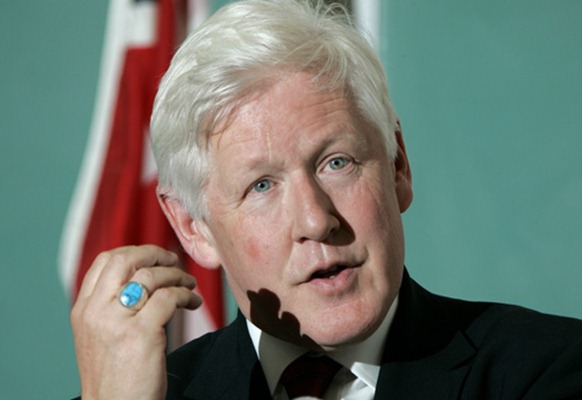 Former Ontario Premier Bob Rae
Rae observes, "[s]omething deep in the culture of antagonism that pervades modern Sri Lanka made it impossible for a peace process leading toward genuine reconciliation to be accepted," and noting that "the hold of religious zealotry and political extremism in Sri Lanka was strong and depressingly persistent," Rae states that "[t]he stubbornness of the Sinhalese majority created the conditions for a turn to violence by the Tamil minority in the 1970s."
On Sri Lanka's democracy, Rae says, "[d]emocracy is much more than who can win an election. It is how a country is governed between elections. It is government by discussion, not by diktat and decree," and pointing to the skyrocketing defense spending and related racketeering, Rae notes: "[b]ut while the West worries, no one is prepared to do anything about it. Sri Lanka's closest allies– China, Pakistan, Burma, and Iran — are not going to criticize the government for its authoritarian ways or its democratic deficit."
Rae says that (a) the decision by the International Monetary Fund in 2009 to authorize US$2.6-billion in credit to Sri Lanka with abstentions from many Western governments, and (b) Sri Lanka's success at convincing the United Nations Human Rights Council that there was no merit in an international review of its conduct of the war, are clear signs that severe repression can take place with impunity.
Rae also documents that in Press Freedom Index Sri Lanka has fallen between UAE and Bahrain, and that Transparency International consistently reports corruption at very high levels.
Rae concludes that institutions necessary to nurture and express these aspirations [democracy, human rights] do not yet exist, but in the long term the government cannot avoid pressure from both domestic and international communities," and cautions that "oppression can work for a time but it cannot work forever."
(For updates you can share with your friends, follow TNN on Facebook, Twitter and Google+)