Week-long fete in Sri Lanka to mark Rajapaksa's second term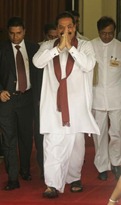 Sri Lankan President Mahinda Rajapaksa on Monday kicked off a week-long celebrations to mark his second term in office beginning November 19.
The government has declared the week from November 15 for celebrations to mark the swearing in.
Mr. Rajapaksa was re-elected in January by a thumping majority defeating the common opposition candidate and former Army chief Sarath Fonseka. Mr. Rajapaksa chose to hold the election on completion of four years of his six-year first term.
A reference was made by the government to the Supreme Court on when the second term should begin. The apex court had ruled that it would begin in November.
Mr. Rajapaksa, who won by 18 percentage points over Mr. Fonseka riding on his popularity as the President who militarily defeated the LTTE, takes oath amid great expectations from within and outside the nation.
Besides the onerous task of revival of the war-battered economy, Mr. Rajapaksa has to forge consensus among stakeholders on a political solution to the ethnic conflict.
Mr. Rajapaksa also turns 65 on November 19. On November 18, he will receive three ships at the harbour built with the Chinese help at Hambantota.
Mr. Rajapaksa assured the Muslims, who were forcibly evicted from the North by the LTTE 20 years ago, that the government would ensure that they are resettled in their places of origin with necessary help to lead happy and prosperous lives.
(For updates you can share with your friends, follow TNN on Facebook, Twitter and Google+)