At UN, As War Criminal Posted as Sri Lanka Deputy, Will Panel Interview Him?
Sri Lanka's placement as its Deputy Permanent Representative at the UN of general Shavendra Silva, responsible for many of the war crimes in 2009 which made UN Secretary General Ban Ki-moon belatedly name a Panel of Experts, has now been noted by a New York tabloid.
Three months ago for an August 25 report, Inner City Press asked Ban's spokesman Martin Nesirky about the placement:
Inner City Press: both the Permanent Representative and the Deputy Permanent Representative slots of Sri Lanka are being changed. The DPR spot is empty and one, the person being sent, according to the Sri Lankan press, was a commander that was in charge of the battalion that shot surrendering troops that came out with a white flag as somehow negotiated or spoken to by Mr. Nambiar.

What I want to know is, if these reports in Sri Lanka are true, and if such individuals that were actively involved in the final stage of the conflict in Sri Lanka, which is now being investigated by Sri Lanka and advised in, does the Secretary-General have to accept…when he says he accepts credentials, is this an automatic rubber stamp? Can a country send, could Sudan send Ahmed Haroun and that would be accepted? What's the Secretary-General's discretion in holding those photo-ops and credentials? Does he have the freedom like a country does to reject someone who is submitted?

Spokesperson Nesirky: On the general point about the procedure, I would need to find out. I do not know. But on the specific, I'm not going to enter into hypotheticals.
It is no longer hypothetical, and has not been for some time. Ban Ki-moon did nothing, and now many say that his Panel of Experts is doing nothing. We do however note that their soliciation of submission has now, after delay and questions, been put online, here.
The Panel says it will accept and presumably review submission until December 15. Disturbingly, the Panel has not even asked to go to Sri Lanka, or at least has not complained about any denial of request. (Early on, the Rajapaksa government said they would deny any such request — at best, Ban's Panel gave in to that; at worse, they didn't even want to try to go.)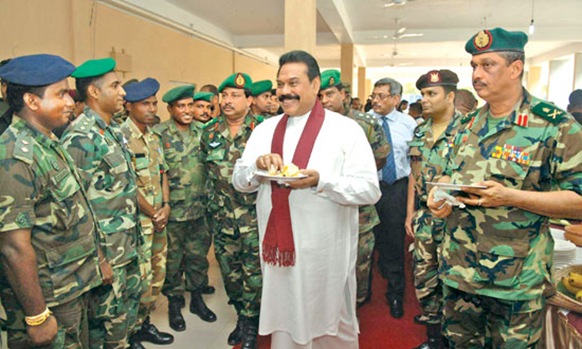 Mahinda Rajapaksa with generals including Silva, accountability not shown
Now they have a war criminal, a man with first hand knowledge, coming into the UN to represent Sri Lanka. Will they even interview him? Watch this site.
Footnote: while the tabloid says Silva is the only person in the Sri Lanka mission with such knowledge, that is not the case, not least with regard to the white flag murders. There are two individuals with first hand knowledge who can often be found together inside the UN building….
Click here for an Inner City Press YouTube channel video, mostly UN Headquarters footage, about civilian deaths in Sri Lanka.
Click here for Inner City Press' March 27 UN debate
Click here for Inner City Press March 12 UN (and AIG bailout) debate
Click here for Inner City Press' Feb 26 UN debate
Click here for Feb. 12 debate on Sri Lanka http://bloggingheads.tv/diavlogs/17772?in=11:33&out=32:56
Click here for Inner City Press' Jan. 16, 2009 debate about Gaza
Click here for Inner City Press' review-of-2008 UN Top Ten debate
Click here for Inner City Press' December 24 debate on UN budget, Niger
Click here from Inner City Press' December 12 debate on UN double standards
Click here for Inner City Press' November 25 debate on Somalia, politics
and this October 17 debate, on Security Council and Obama and the UN.
(For updates you can share with your friends, follow TNN on Facebook, Twitter and Google+)