S.Lankan president expands cabinet ahead of budget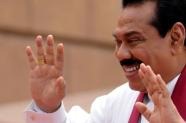 Sri Lanka's president expanded his cabinet on Monday, retaining key positions for himself while adding 12 new ministers ahead of the presentation of the first budget of his second term, officials said.
Mahinda Rajapakse kept the crucial defence and finance portfolios for himself and left younger brother Basil in charge of the economic development ministry. He also retained Prime Minister D.M. Jayaratne.
A dozen junior ministers were promoted in the shake-up, however, which enlarged the cabinet to 59.
He created a new post for "international monetary cooperation" and placed former deputy finance minister Sarath Amunugama in charge of the brief, which is designed to coordinate Sri Lanka's ties with foreign lenders.
Rajapakse, whose swearing in Friday came 10 months after his re-election victory in January, said last week his handling of the economy would replicate his military success in defeating the Tamil Tigers.
Sri Lankan troops crushed a separatist revolt by Tamil Tiger guerrillas last year and the government hopes that the prospects of speedy economic expansion will woo much-needed foreign investors.
He has promised his first budget, to be presented in parliament later Monday, will focus on an economic drive aimed at doubling the country's per capita income to 4,000 dollars by 2016, an official at his office said.
Rajapakse is expected to relax foreign exchange and investment rules as he seeks to encourage investment in the island recovering from 37 years of ethnic war, officials said.
Monday's budget will see a six percent rise in defence spending to 215 billion rupees (1.92 billion dollars) for calendar year 2011, about a fifth of the national budget, according to figures already submitted to parliament.
(For updates you can share with your friends, follow TNN on Facebook, Twitter and Google+)