On Sri Lanka, UN Can't Confirm Will Talk to White Flag Silva, Or Report Will Be Public
Will the Sri Lanka accountability panel of UN Secretary General Ban Ki-moon even ask to interview General Shavendra Silva, now posted in New York as the country's Deputy Permanent Representative to the UN?
  Inner City Press put this question to Ban's acting Deputy Spokesperson Farhan Haq on November 22, the day after a widely circulated article "'War Criminal' Gets a UN Job."
"The deputy permanent representative is an employee of the government of Sri Lanka, I would refer those questions to the government of Sri Lanka," Haq replied. Video here, from Minute 46:08. The government of Sri Lanka, of course, has arrested and barred entry by journalists covering war crimes. Haq and the UN have referred those questions to UNESCO, which has of late said nothing.
Inner City Press asked, since Ban's panel chief Marzuki Darusman is this whole week in South Korea, how much time the panel members are putting into their review of Sri Lanka. Haq replied "they are putting in considerable time," adding that "a secretariat putting together information."
But will Ban's panel even ask to interview Shavendra Silva, who was in charge during the alleged murder of those exiting with white flags, a process in which Ban's chief of staff Vijay Nambiar was involved, having only even purported to explain his role once, to a media now barred by Sri Lanka?
"As you are well aware we have not been putting out a day by day summary of the people from whom the panel gets information," Haq replied. He said the panel will submit a report to Ban, "then we'll have information."
But will the report even be public?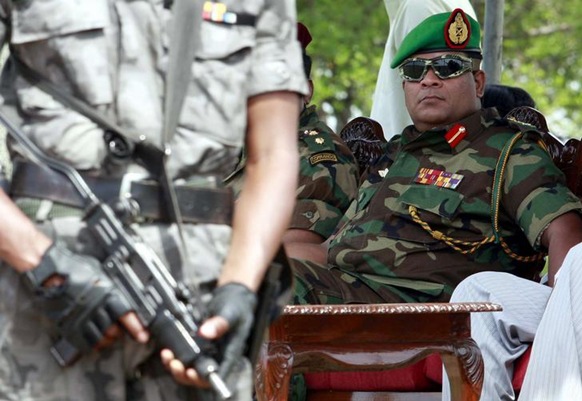 Silva glowers – Ban's panel cowers? Answers not seen
  Haq said that Ban Ki-moon will decide. So the UN cannot even say it will ask to interview Shavendra Silva, and will in all probability never even make clear if it asked to interview him. Some panel.
Footnote: that a sitting General like Silva would come in the Deputy and not Permanent Representative spot has been marveled at by other diplomats at the UN. Another DPR has even asked Silva about it.
(For updates you can share with your friends, follow TNN on Facebook, Twitter and Google+)