Indian FM in Sri Lanka amid growing Chinese influence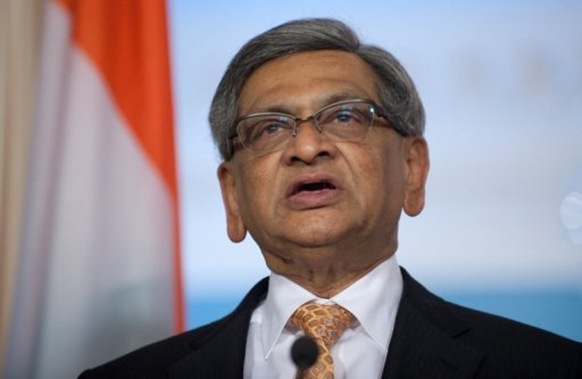 Indian Foreign Minister S.M. Krishna was due in Sri Lanka Thursday to shore up bilateral relations amid growing Chinese influence on the island.
Krishna is due to call on President Mahinda Rajapakse and also open two Indian consulates in the southern and northernmost parts of the island before leaving on Sunday, the Sri Lankan foreign ministry said.
The Indian minister will travel to the southern town of Hambantota on Friday to open an Indian Consulate General office, eight days after the government launched the first stage of a 1.5-billion-dollar Chinese-funded port there.
New Delhi is believed to be concerned that Hambantota is part of a Chinese policy to throw a "string of pearls" geographical circle of influence around India.
China is also developing port facilities in Bangladesh, Myanmar and Pakistan, and has plans for rail projects in Nepal and Sri Lanka.
A diplomatic source said India was keen to speed up some of its own port, power and railway projects in the island which is emerging after 37 years of ethnic conflict following the defeat of Tamil Tiger rebels in May last year.
Krishna is also expected to travel to the island's northern tip of Jaffna to open another consulate in an area where Tamil Tiger rebels once ran a de facto state between 1990 and 1995.
The minister will hold bilateral meetings with, among others, his counterpart G. L. Peiris as part of India-Sri Lanka Joint Commission, the Sri Lankan foreign ministry said in a statement.
"This will provide the two countries an opportunity to review the growing ties between Sri Lanka and India; monitor implementation of bilateral understandings and further enhance the bilateral relations," the ministry said.
It said the two sides will follow up on the understandings reached during Rajapakse's visit to New Delhi in June when Indian nudged the island to move towards national reconciliation after crushing Tamil rebels last year.
(For updates you can share with your friends, follow TNN on Facebook, Twitter and Google+)