India shrugs off Chinese influence in Sri Lanka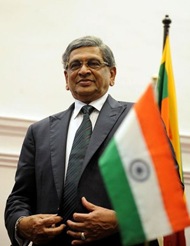 India has no worries about rival China's expanding ties with Sri Lanka, India's foreign minister said on Friday, a week after Colombo unveiled a 1.5-billion-dollar Chinese-funded port.
S.M. Krishna, who met Sri Lankan President Mahinda Rajapakse earlier in the day, said Colombo's ties with Beijing and other capitals would not impact "historic relations" between the two South Asian neighbours.
Asked if New Delhi was concerned about increased Chinese interest in its southern neighbour, Krishna told reporters it was up to Sri Lanka to decide on its external relations.
"The relationship between India and Sri Lanka need not be at the cost of other countries. Sri Lanka's relationships with other countries depends upon Sri Lanka itself and we respect that," he said.
"Our ultimate objective is to see a prosperous, stable Sri Lanka at peace with itself," said Krishna, who was on a four-day official visit to Sri Lanka.
The Indian minister's comments came just over a week after a 1.5-billion-dollar Chinese-funded port was commissioned in the Sri Lankan town of Hambantota.
Analysts have said New Delhi is concerned that Hambantota is part of a Chinese policy to throw a geographical circle of influence around India.
India said earlier in the year that China was displaying "more than normal interest" in the Indian Ocean region.
China is also developing port facilities in Bangladesh, Myanmar and Pakistan, and has plans for rail projects in Nepal and Sri Lanka.
Krishna also urged Sri Lanka to share power with minority Tamils as the island emerges from decades of ethnic bloodshed following the crushing of Tamil separatist rebels last year.
Krishna said Colombo had a "historic opportunity" to address the underlying political causes of the Tamil separatist campaign in the Sinhalese-majority nation.
"The cessation of hostilities in May last year provides a historic opportunity to address all outstanding issues of resettlement and a political settlement in a spirit of mutual accommodation," he said.
New Delhi has been urging Sri Lanka to share political power with Tamils who share close cultural and religious links with the 62 million Tamils in the south Indian state of Tamil Nadu.
Krishna arrived in Sri Lanka late Thursday on a mission to deepen ties with Sri Lanka. He was due to travel to the island's northern Tamil region of Jaffna on Saturday to open an Indian consulate before returning home Sunday.
(For updates you can share with your friends, follow TNN on Facebook, Twitter and Google+)