Indian FM harps on failed 13th Amendment in Jaffna
Indian External Affairs Minister S.M. Krishna, who ceremoniously opened an Indian Mission near Kantharmadam junction in Jaffna, failed to deliver any positive message to Eezham Tamils on India's position in resolving the national question. Mr. S.M. Krishna harped on the failed 13th Amendment to the Sri Lankan constitution, a model Tamils have rejected as inadequate in guaranteeing their rights and he also failed to touch the territorial integrity of the North-Eastern Province which was de-merged by Rajapaksa government that disregarded the earlier arrangement that has been in practice for several years following the Indo Lanka Accord.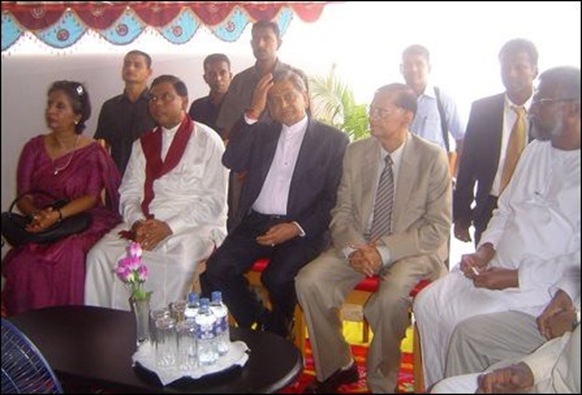 Mr. Krishna declared opened his mission in Jaffna while Sri Lanka Army was busily watching the temples not to toll bells on Tamil Eelam Heroes Day.
Political circles in Jaffna, that observed that even the Tamil National Alliance parliamentarians were not given prominence at the gathering and had to find their seats at a corner told TamilNet that unless Tamil forces in Tamil Nadu rise up to the occasion and play their role, the Indian Establishment will not go beyond the joke of 13th Amendment in resolving the conflict.
The Indian Foreign Minister was speaking at length about India's relations with 'Sri Lanka' and focused on resettlement and reconstruction.
Mr. Krishna said Indian field medical facility at Pulmoaddai and the medical assistance in Vavuniyaa internment camps served 50,000 wounded civilians. 3,000 critically wounded were attended by the Indian medical teams, he claimed. His predecessor, Pranab Mukherjee, had claimed during the Vanni War that there were only 70,000 civilians in LTTE administered areas of Vanni to justify the war, which was abetted by New Delhi. Civilians were kept as 'human shields' in Vanni he said.
The Indian FM listed the figures of Indian assistance to civilians affected in Vanni war without mentioning anything about India's military assistance to Colombo during the war.
Krishna observed the historical significance of the relationship between the people of Jaffna and South India said he was aware of the literary contributions of C.W. Thamotherampillai and Arumuka Navalar. Historically, Jaffna's ports had played a strategic role in the Indian Ocean, he said ciiting the epic Ma'nimeakalai.
He spoke about Indian assistance in developing of Palaali Airport and KKS Harbour. Both are situated within the Sri Lanka Army declared High Security Zones from where Tamils have been evicted.
New Delhi would assist Colombo to reconstruct the Mannaar Medawachiya Railway line and was targeting to resume the boat service from Thalaimannaar to India.
(For updates you can share with your friends, follow TNN on Facebook, Twitter and Google+)