Krishna for a meaningful devolution package in Sri Lanka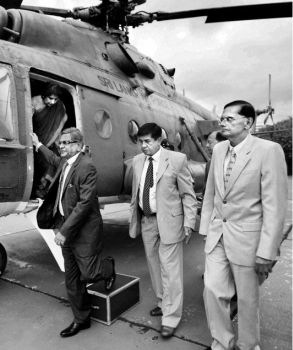 COLOMBO: External Affairs Minister S. M. Krishna arrived here on Thursday on a four-day visit to discuss the whole gamut of issues between India and Sri Lanka, including the re-settlement of three lakh war displaced Tamil civilians and the quest for a political solution to the ethnic strife.
In a statement on arrival, the Minister said: "The end of the armed conflict holds out hope that an era of reconciliation will begin in Sri Lanka. A meaningful devolution package would help create conditions for a lasting peace."
Both India and Sri Lanka have an unprecedented opportunity to take the relationship forward, he noted.
Besides meeting Sri Lanka President Mahinda Rajapaksa and Prime Minister D.M. Jayaratne to exchange views on the current political situation in the country, Mr. Krishna, along with his Sri Lankan counterpart, will co-chair a meeting of the India-Sri Lanka Joint Commission, which is being revived after a gap of five years.
In the course of his visit, Mr. Krishna will travel to Hambantota, home constituency of Mr. Rajapaksa in the southern province and Jaffna, considered to be the cultural and financial capital of Sri Lankan Tamils, and formally declare open Indian consulates.
Indications are that the Minister would announce commitment of a grant of $1.7 billion for developing the north and east of the island nation over the next three years. This will include Rs. 120 crore for the development of the KKS port in Jaffna
Since the end of the war between the Sri Lankan security forces and the LTTE in May last year, India has been engaged in a major way in initially helping Colombo in relief operations and later in re-settling the internally displaced civilians.
India also embarked on a number of projects for rebuilding the infrastructure in the war-ravaged northern and eastern provinces. These include reconstruction of roads, railway lines and ports and upgrading the Palali Airport in Jaffna peninsula.
Mr. Krishna's Jaffna visit has a high symbolic value. An Indian Minister will be in the predominantly Tamil town after a gap of two decades.
Mr. Krishna will also inaugurate the war-ravaged railway lines at Medawachchiya, close to Vavuniya, rebuilt by India.
The Minister will participate in a ceremony to begin a pilot project for construction of 1,000 houses for the internally displaced persons in northern Sri Lanka.
(For updates you can share with your friends, follow TNN on Facebook, Twitter and Google+)