Forget The Budget 2011 But Watch Corruption And Your Purse
The government's budget for year 2011 drew many "one liners" from many political big wigs in the opposition, immediately after it was presented in Parliament by President Rajapaksa on November 22. Mangala called it a "Fairytale budget" while Harsha de Silva called it a "Damp squib".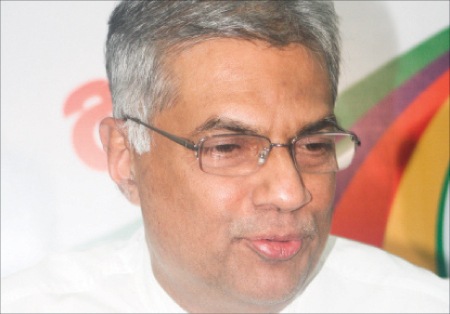 'What can I say?'
For Anura Kumara it was an "Eye wash". Ranil nevertheless didn't have anything to say, putting off a media query with "What can I say?"
Ranil certainly finds it hard to seriously question this budget, when business chambers, investors and corporate sector professionals, call this a "good, business friendly" budget. It appears this budget is a clone of what Ranil would have designed, if he was given the job. The IMF would thus see the government now on the right track. It is tax structure changes that have drawn all appreciation from the business community and the IMF, while opposition politicians are digging up other proposals in the budget, to run it down.
On budgets, there are two important questions that have to be posed to both the government and the opposition. Its not merely on what they talk about this budget. It's simple, when put together. "What came out of all previous budgets they debated and passed in the parliament and what would happen to this, after it is passed?"
Budgets in Sri Lanka, especially during the Rajapaksa regime have not been taken very seriously by its political leadership and the opposition too has fallen in line with it. They come and they go, with little public attention, except during the first few weeks after their presentation in parliament, when the media takes them for speculative coverage.
In October 2009, the government decided it would not present an annual budget for year 2010. The reason was that elections in April 2010 would have a new parliament and that parliament should be given the right to budget for the year. But in 2005, the same political leadership in the UPFA presented in parliament a full budget for year 2006 on November 8, despite the presidential elections to be held in just eight days from then. In 2009 November, a statement of accounts was presented for the four months, January to end April, 2010. But they insisted they would form the next government after elections.
After elections, an amputated budget was passed for the remaining period of the year from June, 2010 till December. Then on November 8, wading in Colombo floods, supplementary estimates for "development" passed in parliament provided Rs. 1.5 billion to the government, when the 2011 budget was to be presented in just two weeks.
Though parliament is constitutionally responsible for all public finances, there is no parliamentary tradition or constitutional requirement to take up the annual budget, for a mid term review. Yet there is constitutional provision to raise monies for any ministry on any topic, through a supplementary budget presented in parliament, with hardly an excuse. Thus it makes the budget a fake after it is passed in parliament. There is no guarantee therefore, this budget would remain a strict basis for financial management in 2011, with this government that simply does what it wants — no ethics, no morals and not even constitutions cared for.
There is but one guarantee, though. This regime will depend on much arrogance and corruption for its deals on "development", very much assisted by the top cream of bureaucracy. This budget now in parliament for approval is therefore not what would decide the future of Sri Lankan society. It simply cannot be, and the President and his clan knows it best.
In fact this regime's "development" projects have been agreed upon, outside the budget, even before its second reading is passed in parliament. Invited by the Institute of Charted Accountants in SL to speak on the budget and introduced as a key player in designing the budget, Treasury boss Dr. Jayasundera who was once found unsuitable to be in public service by the Supreme Court for financial corruption says, Colombo will have huge investment coming in for mega hotels, apartments and shopping complexes as beach front development, amounting to US $ 500 million (x Rs. 112). These he said, would begin this coming week.
Though not in the budget again, 400 hectares is to be reclaimed from the sea around Galle Face, as part of this beach front development. Yet little is known about the technical study that should have gone into such a sensitive project and what environmental impact such reclaiming would have on coastal areas extending North and South of Colombo. There is no mention of an Environment Impact Assessment that needs to have public consultancy before any approval is granted.
All that is known about this sea reclaiming is that, over a decade ago, a "Stimulus Study" done by the Moratuwa University showed possible adverse impacts South of Colombo. That may not deter this regime to pursue these projects with big money pledged, into the right kitty.
While what is pledged by the budget may not be there for 2011, much is being done outside the budget, and pretty fast too. Buying off the Dutch owned Shell Gas Lanka wasn't ever talked of in the scaled down budget for 2010, wasn't discussed in parliament, nor is it mentioned for 2011 in any way. Yet, Harry Jayawardene is a key personality with Premjayantha's Petroleum Ministry, under which the newly acquired Shell GL named "Litro" would come. This acquisition for US $ 63 million was by the SLIC that Harry Jayawardene had to give back to the state on a Supreme Court order, proved to be one of the heaviest cases of fraud in privatisation.
This is one path this regime would never budge away from. This is why the UDA is with the Defence Ministry, Tourism is with the Economic Development Ministry and the Coast Conservation Department was taken away from the Fisheries Ministry, to be listed under the President. That sort of completes the collection of required regulatory and approving agencies under Rajapaksa rule, while the Colombo Municipal Council awaits either legal demolition or political acquisition at the next local government elections.
Within the budget 2011 there are vague proposals that extend for three years, till 2016 and some with no time frames set, all left to be dropped or changed, if not carried through with each budget that would come after 2011. Except for the cost of living increase of Rs. 600 and the Rs. 250 for pensioners and staff grade employees in the public service that has time frames set very clearly as 2011 January and July, the 5% wage increase for public servants has no clear indication of when it would be effective from, except for the mention that an increase of Rs. 100 for 450,000 pensioners and 1.3 million public servants would cost the Treasury a sum of Rs. 1.9 billion. The President thereafter said, his proposed increases would need Rs. 33 billion in 2011.
Per capita increases promised from US $ 2,375 to 4,000 would not be for these public and private sector employees. They don't earn that per capita (22,000 per month) in rupees now and would not, in the future. The average salary of Rs. 18,000 for the majority in the public sector that starts with Rs. 11,000 and an average of about Rs. 10,000 for the 470,000 Free Trade Zone workers, cannot stand in par with the per capita that makes Sri Lanka a middle income country. That per capita is decided by those money swindling few in Colombo and Gampaha and their suburbs, where accumulation of national wealth takes place. That is one major anomaly this budget would keep increasing through year 2011.
With a projected deficit of over Rs.430 billion to start the year 2011 with and the proposed income set at Rs. 963 billion, in this country where the Inland Revenue Department has not been able to collect more than 40% of due revenue, there would certainly be "supplementary" budget allocations, running through the year. By then, this budget with no special proposals budgeted for social reconciliation and rehabilitation, yet with its glorious promises with a beautifully painted future, would be a forgotten piece of parliamentary debate.
(For updates you can share with your friends, follow TNN on Facebook, Twitter and Google+)