Icy reception for Rajapaksa at Heathrow
More than five hundred Tamils gathered at London's Heathrow airport to protest as Sri Lankan President Mahinda Rajapaksa landed from Colombo. As Sri Lankan Airlines flight UL509 carrying Mr. Rajapaksa, who is on a private visit, landed at about 9:50 p.m. UK time, protestors braved Britain's unusually cold weather to call attention to his government's war crimes. Meanwhile, a senior Norwegian expert on the conflict in Sri Lanka advised Tamil activists to concentrate on country-level legal moves, rather than waiting for any global or governmental actors to take the lead. Tamils should forge alliances with legal, alternative, and human rights groups to fight the legal battle, the expert told Norwegian Country Council representatives, who welcomed the British demonstration.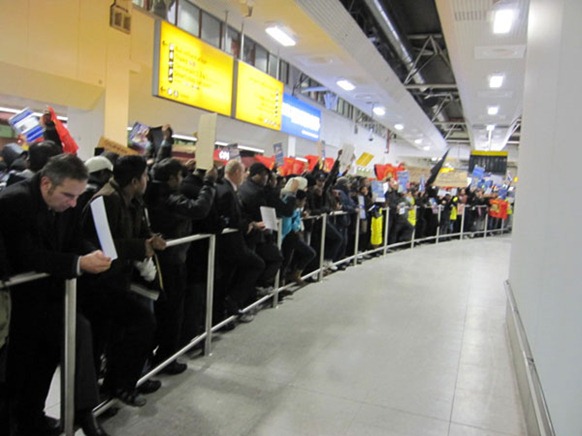 Monday's protest was organised by Tamil university students using mobile phones, as soon as details of the flight became known.
Hundreds of protestors waving impromptu placards and Tamil Eelam flags gathered in the arrivals hall at Heathrow as many others demonstrated outside the building in sub-zero temperatures.
The demonstrators chanted slogans against the war crimes committed by Sri Lanka and called for boycotts of the country, as thousands of passengers embarked from evening international flights. Heathrow is the world's busiest airport.
Two dozen police in attendance were relaxed, while the airport's usual armed patrols kept a distance.
Whilst Mr. Rajapaksa and his entourage were able to avoid most of the protesters as he was driven out of the airport through the VIP exit.
However, another small crowd had gathered outside the perimeter gate in sub-zero temperatures; police kept demonstrators back as President Rajapakse's motorcade sped out.
"We are here to let the British government know that as British citizens, we do not think letting a war criminal into the country is appropriate," said one of the demonstrators in the noisy airport hall.
"The British population needs to know that the Sri Lankan President was complicit in the killing of about 40,000 civilians and that is why I am here," said another.
The flight from Colombo via Male was two hours late landing. The protesters had been gathering at Heathrow's Terminal 4 from before the initial flight time and were waiting inside the terminal for the passengers to disembark from the flight.
"We used the delay to educate other travellers about Sri Lanka," one of the organisers said.
Disembarking passengers took photographs on their mobile phones, whilst people waiting to receive arrivals chatted with some of the demonstrators.
At the Tamil Remembrance Day event on Saturday, several speakers called for international war crimes probes against Sri Lanka's government.
Virendra Sharma, MP (Labour) singled out President Rajapakse's visit for criticism, calling for demonstrations.
"Next week the most unwanted, undesirable, individual is coming to Britain," he said.
"We [must] make sure that the Tamil people and all those people who believe in democracy and freedom come out next week and show our protest and anger to Raja and his sympathisers in this country."
"Nationally, and locally, in your own areas, show your protest, show your anger. Make sure the world knows the Tamil people are united in fighting that discrimination in Sri Lanka," he said, vowing his own unflinching support for the Tamil struggle.
President Rajapaksa is in London on a private visit. He is scheduled to address the Oxford Union on Thursday December 2 at the invitation of the Oxford Union and the Sri Lanka Society of Oxford University.
Sources said he and his entourage are staying Monday at the Dorchester, one of London's most expensive hotels.
News reports said that Mr. Rajapaksa may face protests from Sinhalese demanding the release of former Army Commander Sarath Fonseka.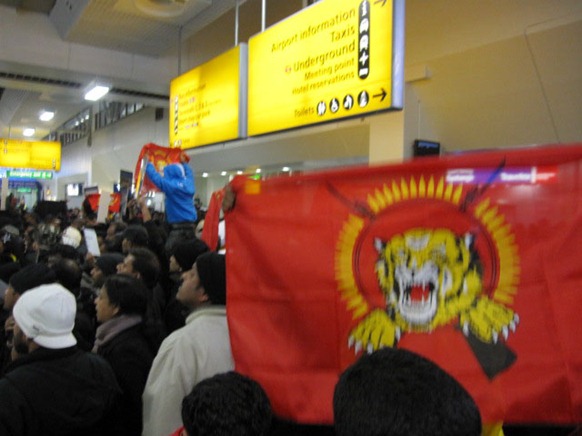 Protesters at Heathrow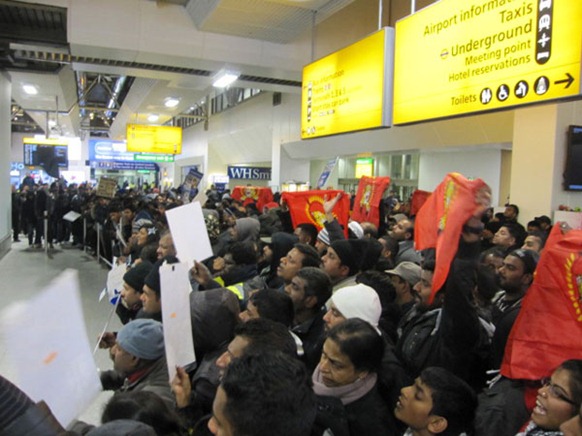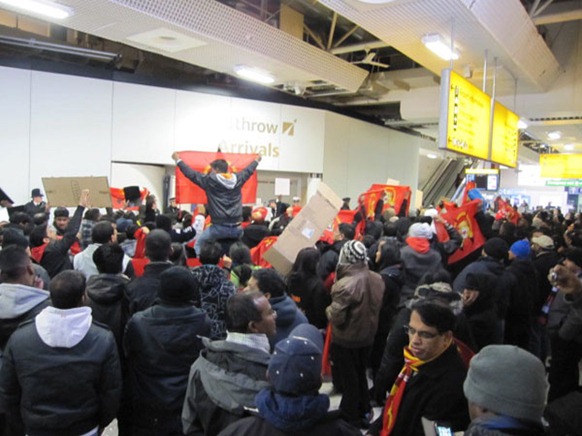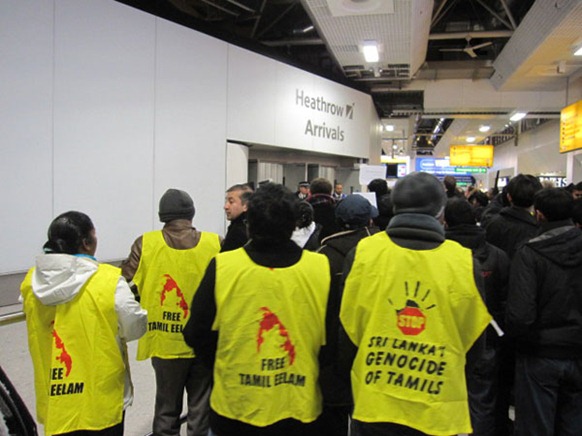 (For updates you can share with your friends, follow TNN on Facebook, Twitter and Google+)