Amnesty urges Britain to examine Rajapakse war crimes allegations
After Britain's Channel 4 News aired Tuesday further evidence of war crimes, including sexual abuse, by Sri Lanka's military, the UN Special Rapporteur on extrajudicial, summary or arbitrary executions, Professor Christof Heyns, expressed his shock and called for further investigations in light of the new footage. Amnesty International meanwhile urged Britain to investigate bringing war crimes charges against Sri Lanka's President Mahinda Rajapakse and other Sri Lankan officials under the UK's universal jurisdiction laws. Channel 4 says it has "received hundreds of photographs and many more shocking videos depicting summary executions and rape," and has sent one five-minute video to the UN panel looking at Sri Lanka's war crimes.
Sri Lanka execution video Courtesy: Channel 4
The mobile phone video broadcast Tuesday shows a longer version of the same incident as one aired 16 months ago by Channel 4 News which the Sri Lankan government denounced as fake, but which a UN investigation later found to be authentic.
The earlier video showed the execution of bound Tamil men on a muddy track, purportedly defeated prisoners.
The new video seems to show the same incident but rather than stopping after the execution of a second bound man, it continues and the camera pans left reveals the naked and dead bodies of at least seven women, with accompanying dialogue from onlookers who make lewd and callous comments which seems to strongly suggest that sexual assaults have taken place before the death of the women.
Channel 4 News broadcast an extended segment of the video Tuesday. However, Foreign Affairs Correspondent Jonathan Miller said "the rest of the video is too gruesome to broadcast: women bound, shot dead, undressed; callous comments from onlookers laden with sexual innuendo."
"We've now sent this five minute 30 second video to the UN panel convened to determine whether or not there should be an independent international war crimes inquiry," he said.
On the same Channel 4 News report, Amnesty International called on Britain to investigate President Mahinda Rajapakse and other members of the Sri Lankan government under the country's universal jurisdiction laws.
Amnesty spokesman Sam Zarifi told Channel 4 News his organisation is "calling on the [British] police and UK judiciary to examine any of the evidence alleging war crimes and crimes against humanity in Sri Lanka that are put before it"
"… to see whether any of the members of the Sri Lankan government, including the President [who is presently in London], have run afoul of international laws that would trigger universal jurisdiction."
"Perhaps the most important part of what we've seen with this new video is there are more prisoners who seem to have been killed, there are more [Sri Lanka] army personnel who are present," Mr. Zarifi was quoted on Channel 4's website.
"Very troublingly there are indications that deserved to be looked at about possible sexual violence. At least two of the bodies seen in this video seem to be of women, prisoners of war and some of the back and forth chatter is of a sexual nature."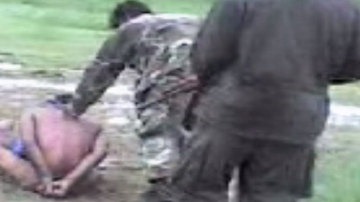 The UN Special Rapporteur on extrajudicial, summary or arbitrary executions Professor Christof Heyns says further investigations were needed in light of the new video.
"It is shocking indeed and clearly deserves more investigation," Prof Heyns told Channel 4 News.
In August 2009 Channel 4 News broadcast another video of the alleged executions which provoked an angry reaction by Sri Lankan officials and led to a UN investigation.
Sri Lankan officials publically branded the video a fake and lodged a series of complaints with British broadcasting regulator Ofcom.
However, a report commissioned by the UN examined the video frame-by-frame and a group of independent experts said the video was authentic.
Responding Tuesday to the new accusations, the Sri Lanka High Commission in London in a statement denied the new video was authentic, saying "the present video is nothing more than an elongated version of the same video [from 2009]."
The UN's Special Rapporteur on extrajudicial executions, Philip Alston, released the report in January 2010 and called for a war crimes investigation.
"I call for independent inquiry to be established to carry out an impartial investigation into war crimes and other grave violations of international humanitarian and human rights law allegedly committed in Sri Lanka," he said.
(For updates you can share with your friends, follow TNN on Facebook, Twitter and Google+)