UN: Sri Lanka 'war crimes' video needs investigation – Channel4 News
The United Nations tells Channel 4 News new footage of the alleged massacre of Tamil prisoners in Sri Lanka "deserves more investigation", as Sri Lankan President Mahinda Rajapakse visits London.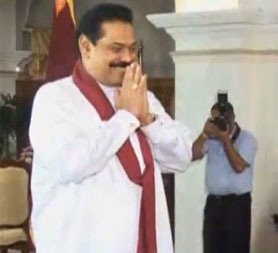 Last night, Channel 4 News broadcast an extended Sri Lanka execution video, apparently showing government troops executing Tamils in the last few weeks of the Sri Lankan civil war.
The video is a longer version of one which already sparked a United Nations (UN) investigation 16 months ago when it first came to light.
The UN Special Rapporteur on extrajudicial, summary or arbitrary executions, Professor Christof Heyns, told Channel 4 News futher investigations were needed.
"It is shocking indeed, and clearly deserves more investigation," he said.
Channel 4 News has sent the new video to the UN panel investigating allegations of war cimes in Sri Lanka.
The country's 26-year civil war ended in May 2009 when the Sri Lanka army defeated the LTTE – Tamil Tigers – in an area known as the "no-fire zone". Estimates of how many civilians died in just the last five months of the conflict, when violence escalated hugely, range from 7,000 to 30,000.
(For updates you can share with your friends, follow TNN on Facebook, Twitter and Google+)