WAR CRIMINAL NOT WELCOME! LET THE PUBLIC KNOW –Act Now
As President Rajapakse poises to speak at the Oxford Union in an effort to 'normalise' his relations with the West, it is great opportunity for us to highlight the truth of his Regime's War Crimes.
Act Now members will be handing out leaflets to Oxford Students and members of the public on Thursday. If you intend to come along in the day or just to the demo (outside the Oxford Union, Frewin Court from 5.00 pm) please print off copies of the enclosed leaflet which is asking local people to sign the Amnesty International petition calling for an independent investigation into allegations of War Crimes committed in the early part of 2009.
Otherwise we hope to see you there to let the President know that War Criminals are not welcome!
For further information, please contact:
Tim Martin, Director, Act Now
Tel: +44(0)7817 504 227
Email: info.actnow@gmail.com
Site: www.act-now.info
Graham Williamson, Director, Act Now
Tel: +44(0)7970 455 445
Email: info.actnow@gmail.com
Site: www.act-now.info
Sockalingham Yogalingam, Director, Act Now
Tel: +44(0)7948 380433
Email: info.actnow@gmail.com
Site: www.act-now.info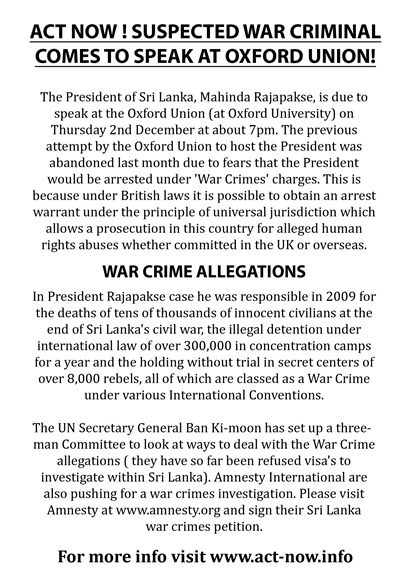 (For updates you can share with your friends, follow TNN on Facebook, Twitter and Google+)