US worried on Sri Lanka rights probe: WikiLeaks
The United States questioned if Sri Lanka would thoroughly probe war crimes allegations as the accusations involve President Mahinda Rajapakse and other top leaders, WikiLeaks said Wednesday.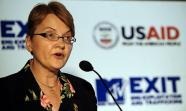 The controversial website, citing one of thousands of diplomatic cables it obtained, said US Ambassador Patricia Butenis saw some progress in Sri Lanka in investigating alleged abuses during last year's bloody finale of the civil war.
But she was quoted as saying in a January cable: "There are no examples we know of a regime undertaking wholesale investigations of its own troops or senior officials for war crimes while that regime or government remained in power."
"In Sri Lanka this is further complicated by the fact that responsibility for many of the alleged crimes rests with the country's senior civilian and military leadership, including President (Rajapakse) and his brothers and opposition candidate General Fonseka," she said, according to WikiLeaks.
The president's brother, Gotabaya Rajapakse, is defense secretary. Former general Sarath Fonseka led the army's defeat of Tamil Tiger rebels but was arrested shortly after losing a presidential bid this year.
The army last year killed the top rebel leadership, defeating the Tigers who were known for their devastating suicide bombings during a nearly four-decade campaign for a separate Tamil homeland.
The United Nations has raised concerns about human rights toward the end of the war. The world body has reported that at least 7,000 ethnic Tamil civilians were killed in the final months of fighting.
The United States has urged Sri Lanka to ensure accountability and to promote reconciliation but has stopped short of supporting an international probe sought by activists.
Sri Lanka's government has strongly rejected any UN or independent probe of war crime allegations and says no civilians were killed in the battle against the rebels.
(For updates you can share with your friends, follow TNN on Facebook, Twitter and Google+)