Wikileaks: Sri Lanka's Rajapaksa blamed for killings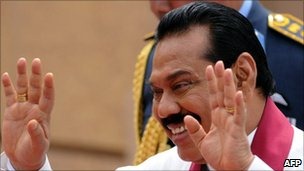 US diplomats believed Sri Lanka's president was to blame for an alleged massacre of rebels in 2009, according to cables leaked by Wikileaks.
The claim was reported in a message from the US envoy in Colombo.
It comes as Sri Lanka's parliament was suspended after a scuffle between MPs over protests in the UK against President Mahinda Rajapaksa's visit.
The demonstrations prompted the Oxford Union to cancel a planned speech by Mr Rajapaksa on Wednesday.
More than 10,000 Tamils are thought to have died in a few days when they came under bombardment from government forces as the three-decade conflict drew to a close in May last year.
The US ambassador in Colombo, Patricia Butenis, said in a diplomatic cable sent on 15 January this year that President Rajapaksa and the former army commander, Sarath Fonseka, were largely responsible.
She said there were no examples of a regime undertaking wholesale investigations of its own troops for war crimes while it remained in power.
"In Sri Lanka this is further complicated by the fact that responsibility for many alleged crimes rests with the country's senior civilian and military leadership, including President Rajapaksa and his brothers and opposition candidate Gen Fonseka," Ms Butenis writes.
On Thursday, parliament in the capital, Colombo, had to be suspended after several MPs tried to attack an opposition Sinhalese MP.
They accused him of instigating a protest against the president at London's Heathrow Airport.
Dinesh Gunawardena, a cabinet minister, called for an inquiry into the conduct of Dr Jaylath Jayawardena, an United National Party MP.
He blamed him for the cancellation of President Rajapaksa's speech to the Oxford Union.
(For updates you can share with your friends, follow TNN on Facebook, Twitter and Google+)