Bad luck and more luck for Rajapaksa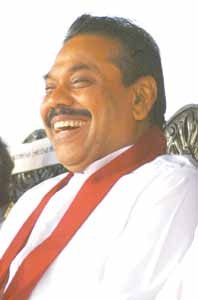 Did Jayalath Jayewardene connive with the diaspora protesters in London who eventually made the Oxford Union decide to cancel president Rajapaksa's lecture engagement last week?
Whether he did or did not, the whole confrontation between the so-called nationalist forces anti national forces is playing out again into full public glare, this time more in the nature of a farce.
This government seems to be still under siege by those who are frothing at the mouth and burning with anger because the LTTE was defeated.
However if Rajapaksa is under siege by the diaspora, by the NGOs and the anti national lobby in opposition, and Channel 4 video purveyors who come out every now and then with some kind of new 'execution video' or another — president Rajapaksa still seems to have an abundance of that trademark luck that he seems to be so associated with.
Alleged war crimes
Just when the president seems to be up against it, in terms of various protests over alleged war crimes etc., what comes up but Wikileaks?
This week, the United States government finally decided knock the Wikileaks site off cyberspace, and go after founder Julian Assange over what appears to be a concocted case.
So where is the freedom for journalists? Remember the shrill noises from Western diplomats and Western backed NGOs when the Sri Lankan government blocked websites such as Tamilnet during the war against the LTTE?
Remember how they said the Rajapaksa government does not respect press freedom, and is engaging in persecuting journalists?
Well look who is at it now? It is none other than Big Brother whose dirty little secrets have been blown, and are continuing to be blown by that intrepid diminutive scribe Julian Assange.
So is press freedom only for Thissanayagam? Other journalists especially if they are getting in the way of Big Brother America, should all be framed in some spurious court case, and put behind bars?
But this then is the Rajapaksa luck. Undoubtedly, there's not much luck in being snubbed by Oxford, and having to come back in the returning flight.
But in the big picture that disaster would be insignificant compared to how the entire Wikileaks affair would bare the hypocrisies of Western governments, which are carrying out a thinly veiled campaign against the Rajapaksa regime in an attempt to implicate him in war crimes.
Wikileaks's Assange should perhaps be offered refuge by the Sri Lankan government! Well, perhaps not the best idea when we are trying to accelerate economic growth with any help we can get from any quarter, but nevertheless it would be a good statement that would show who really values press freedom in this world!
Now, the opposition's ill luck continued with the opposition leader himself consenting to an inquiry against Jayalath Jayewardene to determine whether the man was guilty of treason and violating the Sixth Amendment by conniving with separatists in protesting against the President's Oxford union appearance.
This week 22 UNP MPs pledging allegiance to Sajith Premadasa met,
and decided to bring 50 members each to push the Premadasa case at the forthcoming UNP National Convention.
However, this convention is reportedly not a forum where it would be decided who would be the UNP leader.
What's at stake would be whether constitutional amendments favourable to Sajith Premadasa will be passed.
What the Premadasa loyalists are trying to do is score a small incremental victory on the way to ousting Ranil Wickremesighe one day, which still appears to be in the distant future.
Meanwhile the opposition points out that people got mere 500 rupees salary increase when for instance all those MPs who were not made Ministers are to get the expensive sop of a luxury Prado worth several millions of rupees. But if the same opposition is not powerful enough to mount a challenge, what could the people do except grin and bear it?
:: :: :: Lakbimanews Online Edition :: :: ::
(For updates you can share with your friends, follow TNN on Facebook, Twitter and Google+)