Philippines awards peace prize to SLA, joins Colombo boycotting Nobel ceremony
Philippines on Thursday decided to boycott the Nobel peace prize award ceremony in Oslo Friday. Sri Lanka will also boycott the ceremony that awards the peace prize to Liu Xiaobo, who in his struggle for political reforms in China was sentenced to 11 years imprisonment last year. Meanwhile, during the Heroes Day week of Eezham Tamils, Major General Mahinda Hathurusinghe of the war crimes accused military of Sri Lanka was awarded Gusi International Peace Prize in a ceremony held at the Philippine International Convention Centre, Manila, on 24 November. Colombo's military website run in Jaffna said on 27 November that the award given to Hathurusinghe was the "Asian equivalent to the Nobel Prize".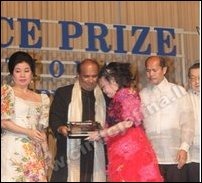 In a ceremony attended in Manila by Colombo's officials, along with presentation of a traditional dance by a troupe from North Central Province, Hathurusighe said that he was much obliged to His Excellency the President Mahinda Rajapaksa and Hon Secretary Defence Gotabhaya Rajapaksa for their guidance given to establish peace and to launch various humanitarian projects for northern people promoting their economy and livelihood.
Liu Xiaobo, named for the Nobel peace prize was calling for democratic reforms in one-party Communist ruled China.
China repeatedly warned governments around the world that ties would be harmed if they attended the ceremony.
The US Congress on Wednesday welcomed the candidature of Liu Xiaobo and called on Beijing to release him by an overwhelming voting of 402-1margin.
Russia, Saudi Arabia, Cuba, Iraq, Iran and Pakistan are among the 18 countries that will be boycotting the function along with China.
Serbia, which is also in the China club in boycotting the award, is told by EU officials that any country aspired to join the EU bloc was expected to share the values of the EU in protecting human rights.
The decision of Philippines comes as it seeks to build stronger military and economic ties with communist China, AFP said. Philippines is one of the countries that may be interested in seeking 'solutions' to national questions in the model of Colombo with Chinese support.
Hindustan Times, reporting Wednesday on Sri Lanka's boycott of the Nobel peace prize award in Oslo, cited a senior official of Colombo saying, "The decision was taken to show our solidarity with China. It was in line with our friendly relation with China. Our friendship with China is a considered diplomatic policy. We support the 'one-China' policy,"
A joint statement released by Amnesty International, Human Rights Watch, Human Rights in China, Students for a Free Tibet, Human Rights First, The International Campaign for Tibet, The International Federation for Human Rights and the Tibetan Youth Congress, on Thursday said: "In awarding Liu Xiaobo the Peace Prize, the Nobel Committee has acted courageously, especially in light of Chinas growing global political influence and of the pervasive perception that no country in the world can afford to disagree with or antagonise China."
(For updates you can share with your friends, follow TNN on Facebook, Twitter and Google+)