A Voice Barred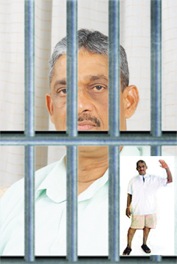 Dear Sri Lankans, the time has now come for us to stop being complacent and start  taking an active role in shaping our future and the future of this country. Sri Lanka is still  a democracy and the Constitution specifies certain rights. Among them the right of the citizens to exercise their franchise without being intimidated or persecuted. Sadly, the reality is quite the opposite.
Democratic Rights
However, locking me up won't silence me. I know they will try to take my life, to silence me, but I am not scared. I will face all hardship and trauma for the sake of my country and my people. I strongly believe that, if we as a people have no freedom to speak or express our political opinion that govern our daily life and direct our future, it is much better to die than live under a dictator. Hence, protecting the sovereignty and democratic rights of the people is one of my main political goals.
Every Sri Lankan, irrespective of social standing or status must have equal rights and more importantly the freedom to exercise those rights. They should be able to live with dignity, self respect and decorum and enjoy the right to live where they choose.
They should also be treated equally. Sadly however, in order to keep us apart even now, our corrupt politicians have created mistrust and suspicion amongst the different communities, purely for their personal short-term political gains. I humbly request all citizens of Sri Lanka not to fall prey to divisive politics, but to live in unity as Sri Lankans and work towards a common goal-of developing the country. All communities deserve a better tomorrow, not just pockets of few.
Political Thug
The President of Sri Lanka is behaving like a gangster politician in a Hindi film, destroying all those who oppose him, specifically politicians and journalists, so that in the end no one stands in his way.
A government is elected to power on the promises it makes to develop the country and improve the living standards of its people. The policies it implements are expected to be for the greater good of the country and the people.
What we have here is a blatant abuse of power, where the President manipulates the legislature through bribes, intimidation and numerous other forms of coercion, to reinforce his position. His priorities are first, his and his sons' welfare and the power they can accumulate and second, destroying any political opposition that stands in the way of the first priority.
The manner in which the 18th Amendment to the Constitution was passed is a classic example. Through his lap dog ministers and the opposition MPs he could bribe and intimidate, he has secured the constitutional changes he needed to ensure the Rajapaksa dynasty's survival. Moreover, he extended his powers to bring under his direct purview, the appointments to all the vital public offices and commissions. Going forward, come election time, he won't have any independent bodies putting road blocks on his bid to stay in power for ever.
This is not a situation conducive to further democracy. Given that Sri Lanka is a democracy, and both the President and government are elected to power by the people, it is the people's right to demand that the nation's interest be given priority. We don't have to put up with this situation. It is high time we wrested control of our future and ensured that Sri Lanka remains a democracy and doesn't descend into a shameful dictatorship.
Presidential Interference
I am beginning to realise our legal process does not do any good to the people,  primarily because of the manner in which the President interferes. If you need even further evidence, look at the travesty of the two courts martial that found me, with all evidence to the contrary, guilty as the President wanted.
Sri Lanka maybe the only country in the world where a civilian is charged in a military court. The circumstance under which the ruling was made was truly a joke. In the first case, the courts were on vacation so no lawyers were present. In the second case, the ruling was given despite all evidence to the contrary, and with evidence that I had no hand in manipulating the military tender procedure.
I didn't expect any justice and I didn't get any. The Rajapaksa regime probably feels victorious after illegally removing my 'General' rank, gallantry medals and retirement benefits. This is to be expected, especially from an ungrateful man suffering from an inferiority complex. He got junior officers previously cashiered from the army, to sit in a court martial jury. This contravenes all norms, ethics and traditions of any military. A shameful act that has insulted both the military and the country it serves.
Having said that, I must point out that I never served the country expecting promotions or medals. My 40 years of service rendered to the country, shedding blood on several occasions, cannot be erased through this shameless act. I served the army, because I loved my country and didn't expect anything in return. The only thing the country was supposed to give me was my monthly pension of Rs. 50,000, which I had pledged to charity.
Mahinda Rajapaksa has only succeeded in robbing that altruistic endeavour from me — nothing else.
He cannot take away my rank and medals, as he cannot give back what I have given for the nation. If he wanted to erase what I did, then he has to give life to Prabhakaran too. Our ungrateful leader will never do any good for the country. If this can happen to me, all our citizens one day can expect to face the same fate under this regime.
Independence of Judiciary
The politicisation of the judiciary is a hallmark of a country forsaking its democratic principles and tumbling headlong into a state of tyranny. The President is solely to blame for this situation. He has interfered and used the influence of his office to make the august arm of democratic rule a toothless lapdog of the executive.
The legal fraternity and even the general public are aware of this, but simply play along because they fear reprisal. Keeping quiet won't help. I urge all those who are tasked with safeguarding the independence of the judiciary to stand firm in their conviction and reject this kind of blatant abuse. For a day may come, when they will have to not only reckon with how they allow the judiciary to be subjugated, but also rue their complacency in allowing that to happen.
Call for change
For a country to develop and its people to feel they are truly partners to that development, there must be economic freedom. Unfortunately, the reality in Sri Lanka is that, only those who get the blessing of the President and his close associates are allowed to prosper. This ensures that the promise and potential for development will always remain a distant dream for many. It is up to us to take up the challenge of changing the system.
The strength of our country; and the power of the politicians lie with the people, many of whom live in under-developed rural areas. Our leaders do not want the masses to realise this. They make grand promises of development, but only offer paltry benefits like the Samurdhi handouts ensuring the state of affairs remain unchanged. I believe our people, especially the poor, deserve much more than this. They need better employment prospects, a better means to improve their living conditions, better schools so their children receive a good education and better access to health facilities.
To achieve this, the masses need to realise the power they hold in their own hands.
They need to use their power and use their vote and elect the people best suited to govern, candidates who will put the peoples' interest and that of the country before their personal agendas.  So let us work together to ensure we elect politicians who are not corrupt, but are educated, qualified, experienced, sincere, genuine, patriotic and energetic, to be the leaders of our country.
The business community can also play a decisive role in helping change the system. For as much as we need honest and committed politicians, we also need honest and upstanding business leaders who can guide the country on the right path to development. Their participation in governance will instill greater confidence in the international community and help create a better investment climate ensuring Sri Lanka gets the necessary foreign income to facilitate the development process and improve the standard of living of its people.
Plea to Religious Leaders
Religious leaders can and should play a greater role ensuring the country progresses in the right path. History shows us that religious leaders played a key role in protecting the sovereignty of the country and the people. However, today, unscrupulous politicians are even going so far as to intimidate our religious leaders if they fail to toe the line with their selfish political agendas. We are now witnessing how the Venerable Mahanayakas are being intimidated, harassed and threatened with the blessings of Mahinda Rajapaksa.
The irony is that the President preaches Sri Lanka is going to be developed in line with Buddhist principles. Where is the justice in that if he threatens and intimidates the Mahanayakas to do his bidding?
No religion condones corruption or the abuse of power. I sincerely believe our religious leaders can play a great role in helping the country and make a humble plea to all to extend their assistance to put Sri Lanka on the right path to democracy and good governance.
The Youth
The youth are the future of the country. However, under this regime, they are not only neglected, but are also a subjugated lot whose voices are increasingly becoming silenced. An unfortunate example is how university students are being attacked and even killed for agitating for their legitimate rights.
This government does not consider the youth of Sri Lanka as future rulers. Only Namal Rajapaksa is deemed the single worthwhile youth in this country. The future leaders should understand the current form of governance is not conducive to the long term interests of the country.  Politicians have successfully suppressed the younger generation and persecuted all of us. We need to change this system and I urge our youth to play an active role in ushering in that change.
Armed Forces & Police
For me especially, the treatment of the Armed Forces and the Police is very personal. We did not sacrifice life and limb to save the country from terrorism so that corrupt politicians can destroy it. Mahinda and Gotabaya Rajapaksa have no respect for the members of the Armed Services or Police Force, or the great service they rendered to this country. They wouldn't be riding the glory of a war victory, if you had not put the country above all else; even your personal safety, to eradicate terrorism. How do they treat you now? You have witnessed the manner in which the Rajapaksa brothers abused the servicemen in the post presidential election period — sacking, demoting and transferring Generals and Brigadiers, without even a cursory inquiry.
Was exercising their democratic right to vote for the person of their choice, truly a crime? I urge you to take pride in your achievements and call upon you to safeguard the country from the spread of political terrorism. Do not allow your sacrifices to be squandered by leaders who are only interested in personal gains and reinforcing their power base. Sri Lanka needs you now to stand resolute in your commitment that saw you conquering a world feared terror outfit. Your duty is, and has always been to the country, not to corrupt leaders. I urge you to maintain your dignity and your pledge to serve the nation and refrain from becoming political tools of a regime intent on destroying all what you have proudly achieved and dearly hold.
Media rights
In a democracy, media freedom must be held sacrosanct. Under the Rajapaksa regime the media is under constant threat. Even during the presidential election, the media was not only abused but was also persecuted and intimidated. A number of journalists were also attacked. The disappearance of journalist Prageeth Eknaligoda is both saddening and frightening. The government has shown no interest in investigating incidents where journalists were killed, attacked or abducted, but have instead tried to blame the military and others for these atrocious deeds and mislead the masses. This is another means of undermining the selfless services rendered by the forces and creating mistrust among the public. I urge the public not to fall victim to such blatant lies.
The government, though elected by the people, does not trust the people. Secrecy seems to be the hallmark of all its actions. A free media cannot fulfill its obligations of keeping the public informed in this culture of secrecy. I make a solemn vow that the day we come into power, all media in this country will enjoy the freedoms guaranteed in the constitution and the public will have access to information, while enjoying their democratic right to free expression.
False Propaganda
The majority of our population live in remote areas and see only the distorted news dished out by the government media. Don't be misled by this false propaganda of the Rajapaksa regime and its character assassination campaigns. Rupavahini and ITN are biased. These two channels will and do mislead the public. They initially tried to destroy my political career by fabricating false allegations about me. Some of the things I am accused of cannot be committed by even the most dangerous criminal in this country.
As it is, there is no justice in the nation. What we have in place is an all out attack on political opponents who the government fears.
My honour, dignity and self respect are important to me. I value them even more than my life and I have never profited from my service to the army or the country. When I left the army, I only had a three bedroom house. Even my soldiers had much larger houses than me. When I entered politics, the government concocted a series of preposterous stories about me to tarnish my image and paint me as an unscrupulous villain. Had I committed even a fraction of the intransigencies I am accused of, it wouldn't have been possible for me to become even a captain in the army, let alone its commanding officer.
I am proud to claim I could never be bought or bribed. The Secretary of Defence wanted to get one of his supporters to build a house for me while I was Commander, but I refused, saying accepting such gifts was not my way of life and was against my conscience and principles. Then they tried to cajole my wife into accepting the house, that didn't work either. This would no doubt give you an idea of why the case cooked up against my son-in-law, saying I was involved in corrupt arms deals is entirely untrue.
My son-in-law's company has only worked with another company in Sri Lanka that supplied some non-weapon items to the military. Even the court martial and prosecuting councils agreed on July 28 that these were not weapons and that I had never favoured or given any support to this company. Apparently the only allegation they put against me was the position I held as the president of the Tender Board. Now everyone can clearly see that I am not guilty or even accused of any corrupt deals. However, the government is still bent of painting a different picture in the media, when even their own kangaroo courts have admitted my innocence.
Prosecuting political opposition is a cowardly act by any head of state. Only power hungry dictators fearful of their opponents, indulge in the practice of putting their opponents behind bars; I am not scared of spending time in jail for the sake of the people of this country. The Rajapaksa regime can never silence me by putting me in jail. I will continue my struggle to ensure the freedom of the people, even if I have to spend the rest of my life in jail. In fact, I'd rather be in jail than be party to shameless acts of betrayal, where terrorist leaders like KP are being given VIP treatment.
Political Culture
I did not embark on a political career to become simply another corrupt member of this regime, which has ruined our country and destroyed the dignity of our people. If I wanted to improve my well being, it would have been easier to continue with the army. I left my uniform, ready to sacrifice for the sake of the country and my people. I did not and do not want to be a shareholder of the prevailing system. I am ready to sacrifice everything, even my life, to change this corrupt regime.
Political interference in all spheres has eroded discipline in society. This is a serious issue. Examples must be set by the head of the state. Unfortunately, some of the most undisciplined are his closest associates. Their actions, no matter how corrupt, vulgar or unacceptable are condoned. Mervyn Silva's behaviour is a good example. We need a country where men, women and children are all respected. We need to show the world and our younger generations that we are a civilised people. We need to prove that we respect human rights and human dignity, and not only pay lip service.
It is not prudent to resort to high handed acts like challenging global organisations. The conduct of Wimal Weerawansa in front of the UN office in Colombo, carried out with the blessings of Mahinda Rajapaksa was an insult to the whole nation. Such behaviour will only succeed in other countries tagging us as a pariah state and reinforcing their efforts to impose all types of sanctions on us.
There is an unacceptable level of political interference in the public sector. The Rajapaksa regime has totally politicised this area and the powers given to him through the 18th Amendment will only make things much worse. Even the military has been politicised and is being mishandled by one of the most incompetent Defence Secretaries we have ever had. Both the President and the Defence Secretary are shamelessly interfering with all administrative activities of the country and as a result administrators have become ineffective.
Sri Lankans should consider the negative aspect of these developments seriously and should not allow one family to destroy the country. The best example of such political interference is the decision by Mahinda Rajapaksa to bring the Urban Development Authority under the Defence Ministry and the Attorney General's Department under the President. These actions show, Mahinda Rajapaksa has personal and vested interests and that his personal interests will always take precedence over the country's best interest. The best example for this, is the colossal sum of Rs. 1 billion spent on inauguration ceremonies for his cheated second term of office.
Shareholders of Change
I cannot single-handedly make the changes needed to ensure a better Sri Lanka. It should be a joint effort and for this I need the help and willing support of the people. My humble request to the beloved people of this country is to speak to your own conscience and to your heart. Saving the motherland from unscrupulous politicians and this corrupt system is the need of the hour. Only the people of this country can do that. All of us have to be shareholders of the effort to save the country and to ensure we leave behind a civilised, prosperous country for our future generations.
(For updates you can share with your friends, follow TNN on Facebook, Twitter and Google+)