Hurdles for international Sri Lanka 'war crimes' inquiry – Channel4 News
Next week, the UN panel looking at alleged war crimes in Sri Lanka finishes gathering evidence – but it is difficult to see how any international inquiry could operate there, writes Ben De Pear.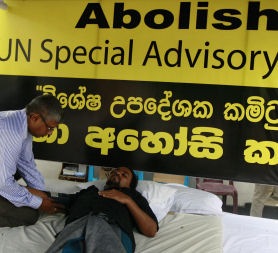 Last year, after a UN investigation into the authenticity of what became known as the Channel 4 video – depicting the execution of a group of bound men in a muddy field in Sri Lanka – declared the video to be authentic, the UN Secretary General Ban Ki-moon established a panel of experts to gather and look at evidence of possible war crimes, writes Channel 4 News Foreign Editor Ben De Pear.
They are in the evidence gathering stage until 15 December, when they will begin to compile their report.
Evidence
That panel is now thought to have gathered a great deal of evidence especially photographs and videos. The evidence, such as there is out on the internet, contains many photos and videos seeming to depict or describe sexual violence and killings.
Channel 4 News has sent the latest evidence it has obtained – including a longer version of the original Sri Lanka execution video, broadcast last week, to the panel.
Leading war crimes lawyer Julian Knowles told Channel 4 News the video, and details gathered around it on the potential identity of one of the victims as well as the date and location, was "astonishing evidence".
The Sri Lanka report by the panel will then be given to Ban Ki-moon.
Normally, formal war crimes tribunals have to be established by a formal motion of the UN Security Council or the General Assembly, but there have been UN investigations such as the Goldstone investigation into the Gaza conflict of 2008-2009 that were commissioned outside of these processes.
(For updates you can share with your friends, follow TNN on Facebook, Twitter and Google+)