Sri Lanka abolishes Tamil national anthem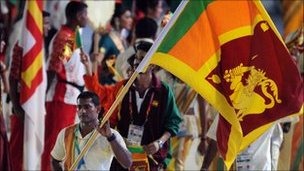 The Sri Lankan cabinet has abolished the Tamil version of the country's national anthem.
Now the national anthem, Sri Lanka matha, can only be sung in the majority Sinhala language at official functions.
The Tamil version had been in use mainly in the north and east of the island, where most Tamils live.
It was an exact translation of the Sinhala version, sung to the same tune, and had been in use since Sri Lanka gained independence in 1948.
The decision to scrap the Tamil version was taken at a cabinet meeting headed by President Mahinda Rajapaksa.
The president said that no country in the world uses the national anthem in other than one language, according to Sri Lanka's Sunday Times newspaper.
Mr Rajapaksa said everyone should think of Sri Lanka as one country.
Correspondents say the move is likely to further alienate the ethnic Tamils in the country.
Tamil Tiger rebels fought a 25-year battle for a separate homeland for the Tamil minority.
(For updates you can share with your friends, follow TNN on Facebook, Twitter and Google+)